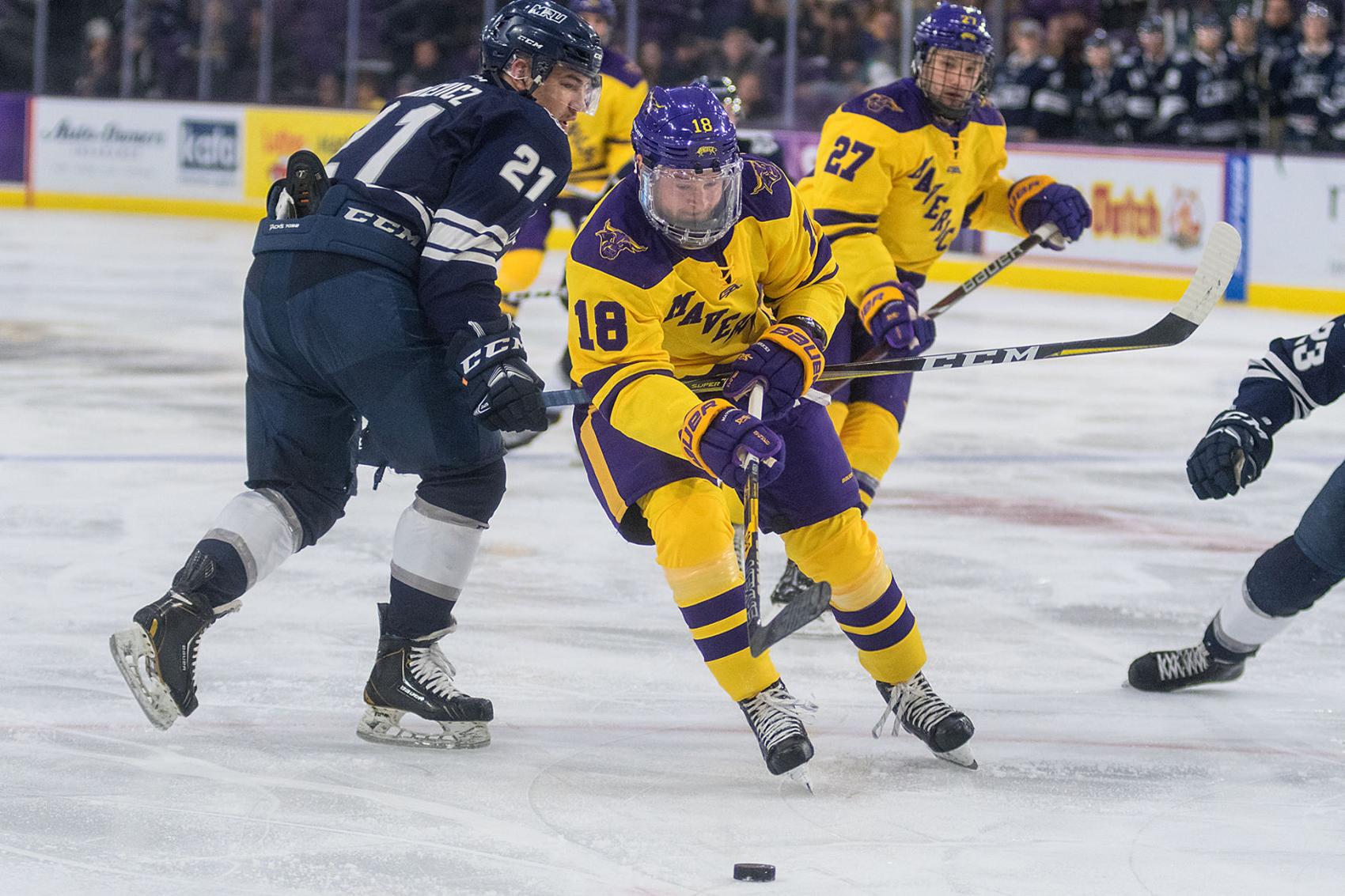 Photo by Jackson Forderer
Freddy's three thoughts of the game ...
1. Good start:
The Mavericks scored twice in the game's first minute and continued to have a good showing against Mount Royal. Sure, there is plenty to work on between now and when Boston University comes to town on Friday, but there were plenty of positives, including the play of some of the usual suspects like Jake Jaremko, Marc Michaelis, Parker Tuomie and Ian Scheid (pictured). Jaremko had a goal and two assists, and the others had two-point games. "There was a lot of stuff to be proud of," Jaremko said.
2. Welcome newbies:
Since it was an exhibition, everybody got to dress, and the Mavericks' freshmen got to experience their first game action. Forward Julian Napravnik scored a goal, while defensemen Wyatt Aamodt, Andy Carroll and Zak Galambos all looked solid. "I liked our back end," Hastings said of the D-corps. "We had some guys grow throughout the game. I thought I saw Carroll get better and better as the game went on, Galambos doing the same thing. Hopefully they'll take some confidence out of this."
3. Eyes on the goalies:
Each of MSU's three new goaltenders played a period with freshman Dryden McKay getting the start. McKay stopped all six shots he faced in the first period. Grad-transfer Mathias Israelsson allowed one goal and was credited with three saves. That number seems a tad low, but if it's right, all three were high-quality stops. Freshman Jacob Berger finished up and stopped five of seven. Is that the pecking order? My guess, as you can read about in Sunday's preview section, is the competition remains wide open.
Deep thought;
How about those uniforms tonight? After years of criticism from me about the Mavericks using black as a primary color, I would be remiss if I didn't praise the gold-and-purple kits Minnesota State is donning at home this season. They looked good on the ice and in photographs. What's also great is being able to see the players' numbers. Well done.
Read my gamer
here
. Also, be sure to pick up a print copy of Sunday's Free Press with our special section previewing the Mavericks' season (those stories should be online later Sunday, too).
Around the WCHA:
Lake Superior State 5, Merrimack 4 ... Bowling Green 8, Mercyhurst 2 ... Miami 5, Alabama Huntsville 1 ... Ferris State 3, U.S. Under-18 1 (ex.) ... Bemidji State 5, Lakehead 1 (ex.) ... Alaska at Arizona State (late) ... Colorado College at Alaska Anchorage (late)
P.S. No video tonight. I'll try to get that going next week for the regular season!