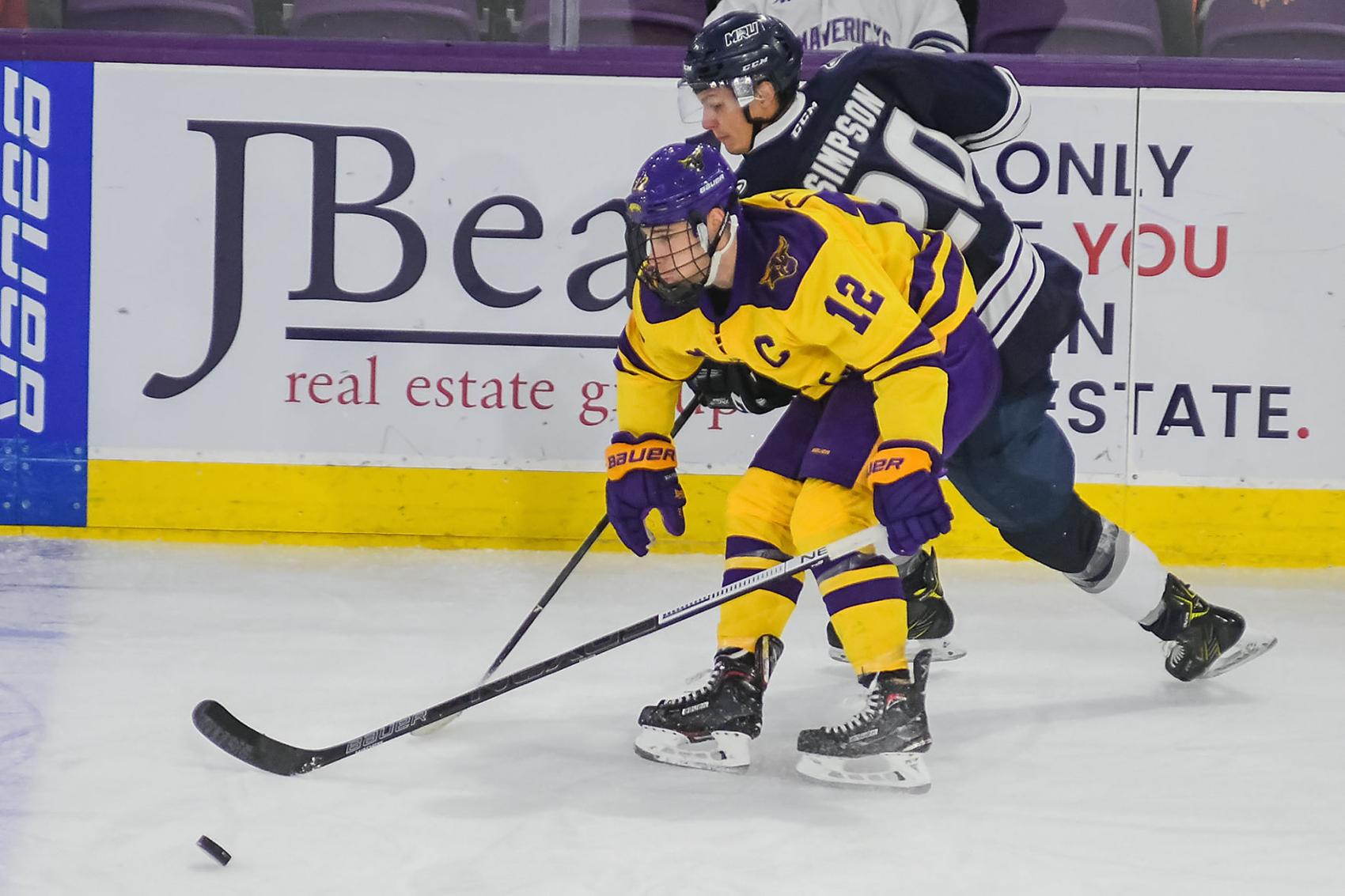 Photo by Jackson Forderer
Another season is officially here, and it kicks off with what should be a good one with No. 11 Minnesota State hosting No. 8 Boston University.
The Mavericks are not very senior-heavy at all, but one fourth-year player, Max Coatta,
is back as captain
, sharing duties with juniors Nick Rivera and Marc Michaelis. Interesting thing about Coatta is his grandpa coached the MSU football team in the 1970s, and his dad was an outstanding athlete at Mankato East High School, going into the school's athletics hall of fame in 2003. Pictured is his entry on the East display.
For more on the Mavericks-Terriers series, check out the
college hockey gameday
feature.
For BU, tonight's game marks the regular-season
coaching debut of coach Albie O'Connell
, who took over for David Quinn, now with the New York Rangers.
Several WCHA teams kicked off the season last weekend, going 5-5-0 in nonconfernece play, which you can read about in Thursday's
college hockey notebook
. As for this weekend, there are some other good matchups taking place:
Bemidji State and North Dakota
are playing home and home
. The MSU folks will be paying attention to this one, as the Mavericks go to UND next weekend. Both teams will be
breaking in new No. 1 goalies
. It's good that the Fighting Hawks and Beavers have continued to play nonconference since the old WCHA broke up and that North Dakota will be renewing its rivalry with MSU next week. The Grand Forks Herald's Brad Schlossman
began a three-part series
on the formation of the NCHC this week. Part 1 is a good read.
In other WCHA-NCHC matchups, Michigan Tech will host
defending national champion Minnesota Duluth
, Ferris State will play Western Michigan in a home-and-home series, Alabama Huntsville will go to Colorado College and
Alaska will host
St. Cloud State.
In WCHA-Big Ten action, Northern Michigan will
begin a season of high expectations
by going downstate to Michigan State.
Bowling Green got off to a great start last week,
winning two games
, and will play two more this weekend against Robert Morris.