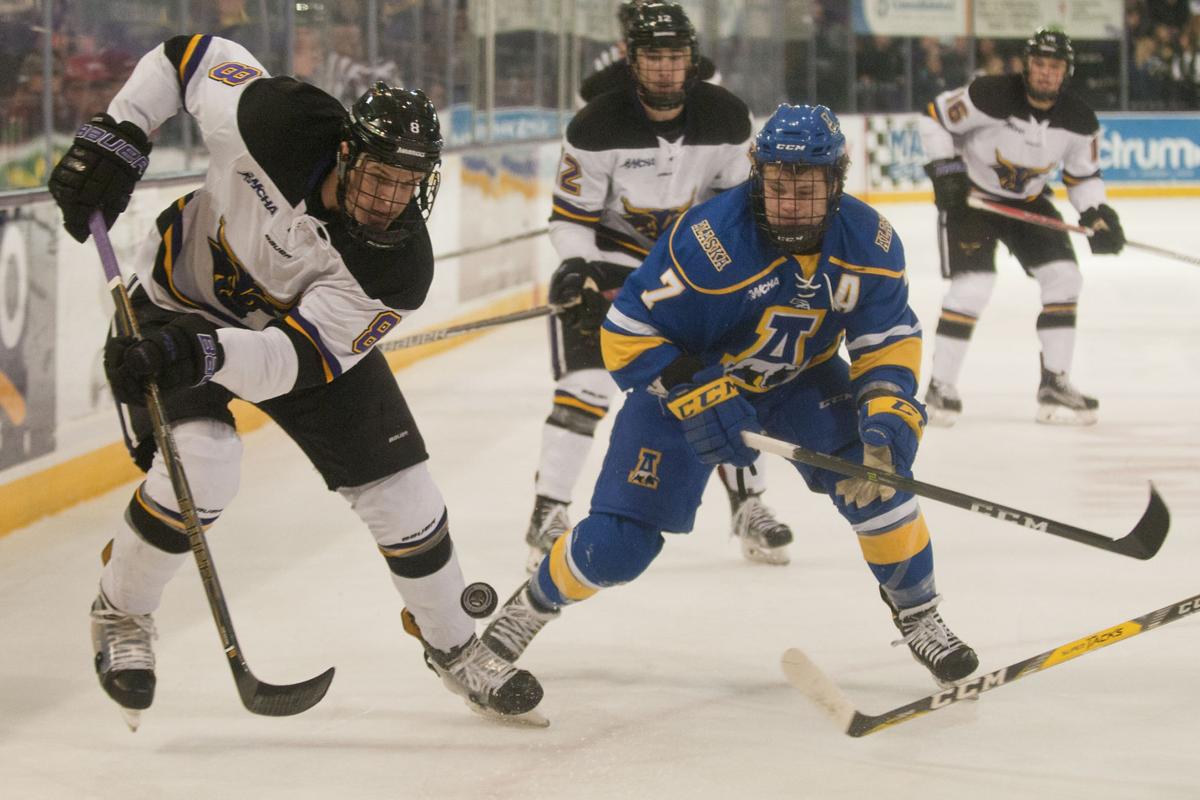 Freddy's three thoughts of the game ...
1. Rookie sensation:
Marc Michaelis was the star of the show on Friday night, scoring four points, including his first collegiate hat trick, in the win over Alaska. His third goal was the prettiest, as I describe in the gamer (link below), but it was also very important as it gave MSU a 5-3 lead midway through the third period. The floodgates opened after that, and the final score was a rout. "We definitely talked about (extending the lead) in the locker room," Michaelis said. "The next goal would decide the game."
2. Brickley's back:
Sophomore defenseman Daniel Brickley (pictured) picked up right where he left off, despite being out for eight games with an injury. He had a goal and an assist and made the Mavericks' power play look like a whole different unit. The Mavericks were 2 for 3 with the man advantage. His goal came on one, and he was running things on the second despite not getting an assist. "He didn't come back and force the game," coach Mike Hastings said. I think he took what was there — made simple plays, smart plays. … Thought he played a real heady game, didn't put himself in bad spots. And that's what you want a good player to do."
3. Foguth's out:
The Mavericks gave up three goals, two on the power play, and could have used their captain, senior defenseman Carter Foguth, to calm things down on the back end. He's out with a lower-body injury. Hastings said he's day-to-day but "has made significant strides in the last 48 hours." It's unlikely he'll play in Saturday's rematch with Alaska, though. With Foguth out, freshman Edwin Hookenson got his first collegiate action. He was +1 with no shots on goal. His defensive partner, Clint Lewis, had a goal and an assist.
Read my game story
here
.
Around the WCHA:
Bemidji State 3, Michigan Tech 1 ... Lake Superior State 4, Bowling Green 2 ... Northern Michigan at Alaska Anchorage (late)