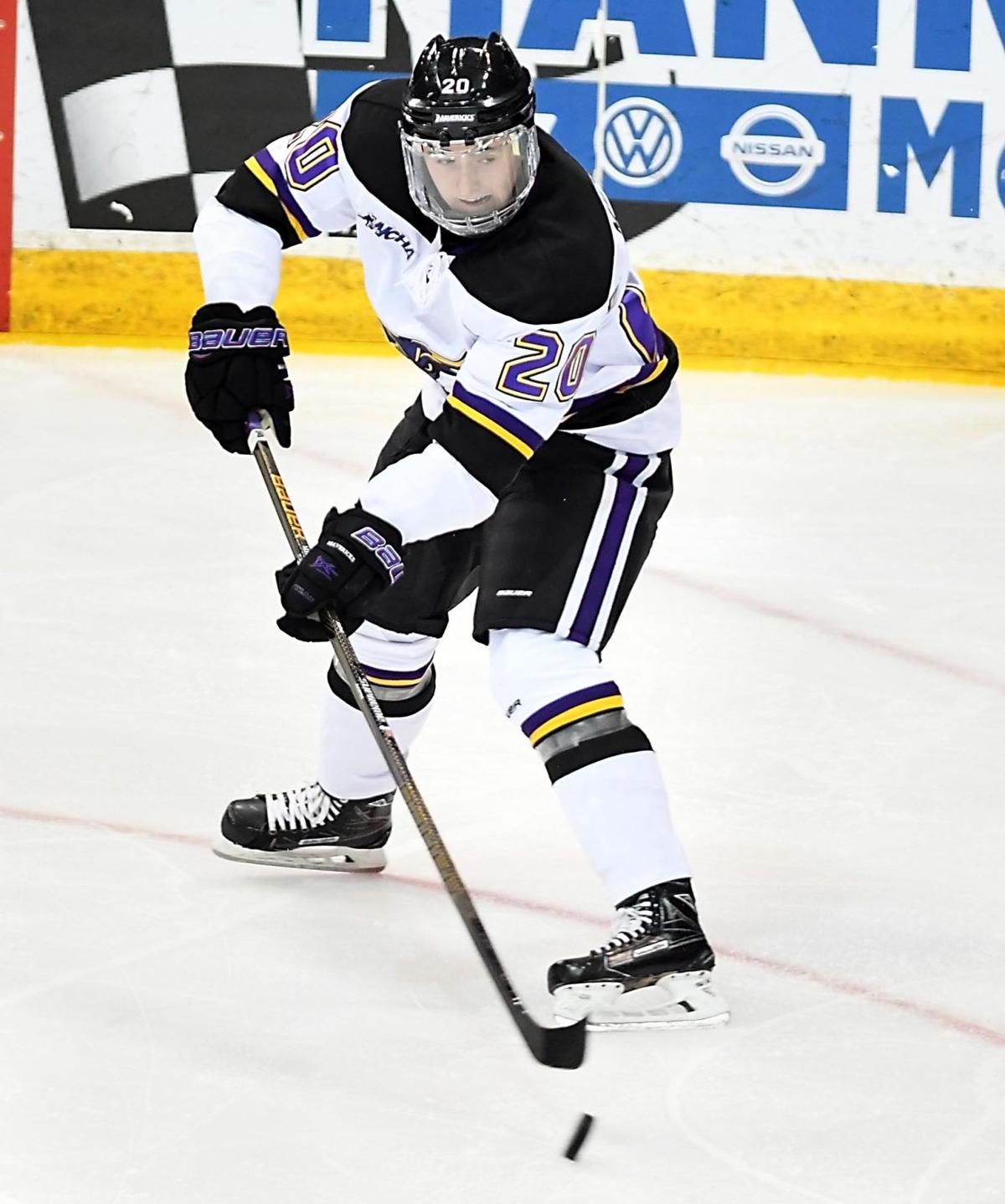 Pat Christman/The Free Press
Good morning! The No. 15 Mavericks will be hosting the Alaska Nanooks tonight at the Verizon Center. It's their first rematch of the season, having played in Fairbanks Oct. 21-22. Then-leading scorer Daniel Brickley got hurt in the second game of that series but will be back for the first time since then tonight, as
was reported Thursday
.
Minnesota State is led in scoring by freshman forward Marc Michaelis (pictured). In some ways, his path from Germany to college hockey
actually started in Mankato
, although he didn't really know it at the time. Once the recruiting process started, he signed on very quickly.
A few more nuggets about Michaelis that didn't make the story:
• He was surprised early on that he was able to score so much (although his coaches weren't) but not any more, mainly because of who he's playing with. If you play a lot, you should expect a lot, he said. "You get used to playing with C.J. and Luresy," he said about skating on a line with juniors C.J. Franklin and Brad McClure. "They make plays where you don't even expect to make plays. ... I'd call it a little bit lucky, playing with those guys, getting some bounces that went in my favor."
• Michaelis recognizes that nine of his points have come on the power play. That can be good and bad. "We need to score a 5-on-5 goal," he said.
• Coach Mike Hastings said Michaelis made a good impression on him in the preseason and has kept that up. Others have taken notice, too. "I think he's a really good hockey player," Hastings said. "I think if you ask the other 13 forwards who they'd like to play with, I think he'd be at the top of the list, maybe top two."
• One player who stood out to Michaelis in that game he watched in 2012 was Matt Leitner, who was a sophomore at the time. "He was one of those guys I remember watching," he said. With his rink vision and history of being a good puck distributor who can also score, could Michaelis be the next Leitner for MSU? "I hope so," he said.
For more about the weekend series, see The Free Press'
College Hockey Gameday
feature.
Read more about the Nanooks
in the Fairbanks Daily News-Miner.
Going around the WCHA ...
Bemidji State at Michigan Tech:
This is the league's marquee matchup of the weekend as the first-place Beavers travel to the U.P. Bemidji State still hasn't lost in WCHA play but
may be reeling a bit
after getting swept at home by previously winless Princeton last weekend. The Huskies, meanwhile, are on a
seven-game unbeaten streak
, including a sweep last weekend at Alaska.
Bowling Green at Lake Superior State:
The Falcons are rolling, too, with a six-game unbeaten streak and only one loss in their last nine.
They will play the Lakers
, who have just one win in their last seven following their 6-1 start. Bowling Green
has the WCHA's leading scorer
in junior forward Mitch McLain, who has 17 points.
Northern Michigan at Alaska Anchorage:
The Seawolves host the Wildcats with the hope of leapfrogging them in the standings. Anchorage is
last in the WCHA
and on a 10-game winless streak and sits one point behind Northern Michigan, which is winless in its last seven, although it did tie Omaha and win the 3-on-3 overtime session last Friday. The Wildcats, too,
hope this is a weekend
in which they can make a move in the standings.
Ferris State at Alabama Huntsville:
The Bulldogs travel to the Hockey Capital of the South for a Saturday-Sunday series. They are tied with the Chargers for fifth place in the WCHA. Ferris State has won four of five games. Huntsville has dropped three in a row, four with a 3-on-3 OT loss.