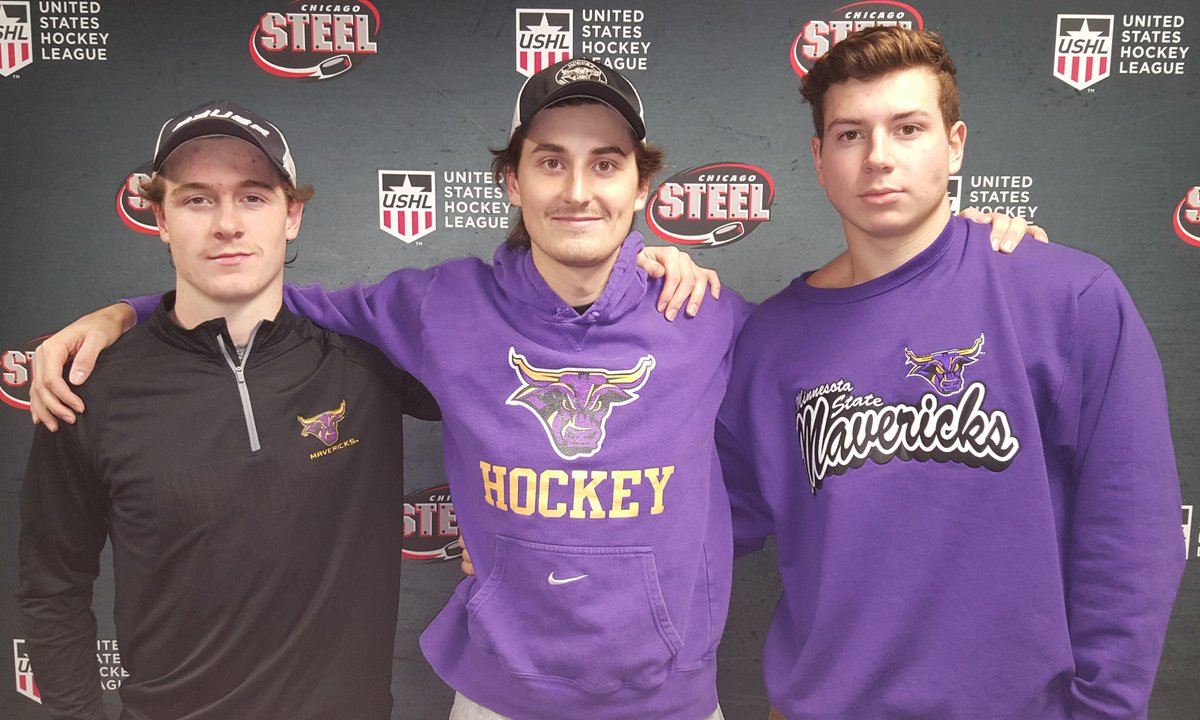 The Chicago Steel's "Mankato Line" of Reggie Lutz, Jake Jaremko and Walker Duehr. USHL photo
The Minnesota State men's hockey team signed nine recruits to national letters of intent for the fall of 2017. The group includes five forwards, three defensemen and a goaltender. All are currently playing in the United States Hockey League.
"We're excited because of the quality of players and people we're bringing in," Mavericks coach Mike Hastings said. "There's not a position on the team that isn't impacted by someone in this group."
The group includes team captains, players who have won championships, a Mr. Hockey winner, an international player and some National Hockey League DNA.
Here's a look at each player with comments from MSU assistant coach and recruiting coordinator Todd Knott:
Jake Jaremko
won Minnesota's Mr. Hockey in 2015 after his senior year at Elk River, where he racked up 68 points in 26 games. A 5-foot-10, 180-pound assistant captain, he leads the Chicago Steel in scoring with 14 points, including four goals, in 13 games and had 20 goals and 48 points in 60 points there a year ago.
"He's very talented," Knott said. "He's a good skater, very fast, and has a good skill set and good vision."
Reggie Lutz
, Jaremko's high school teammate at Elk River and current teammate in Chicago, is a 5-10, 175-pound forward and has five goals and 11 points in 13 games this season. Last spring, he led the Faribanks Ice Dogs to the North American Hockey League championship, and was named Robertson Cup MVP after scoring nine goals and 12 points in 12 playoff games.
"He's always found a way to score," Knott said. "In high school (35 goals as a senior), last year in Faribanks (30 regular-season goals). He has a knack."
Walker Duehr
is a 6-3, 205-pound winger from Sioux Falls, South Dakota. The Chicago forward has seven goals and 11 points in 13 games in is his third season in the USHL. He had 23 points in 38 games last season at Tri-City, helping the Storm win a Clark Cup title, and seven in 49 a year earlier. He's still draft eligible and is a cousin of MSU junior forward Zeb Knutson.
"He's our power forward," Knott said. "He's a long-body kid that can skate. He has very good tools and is a big kid who can protect pucks."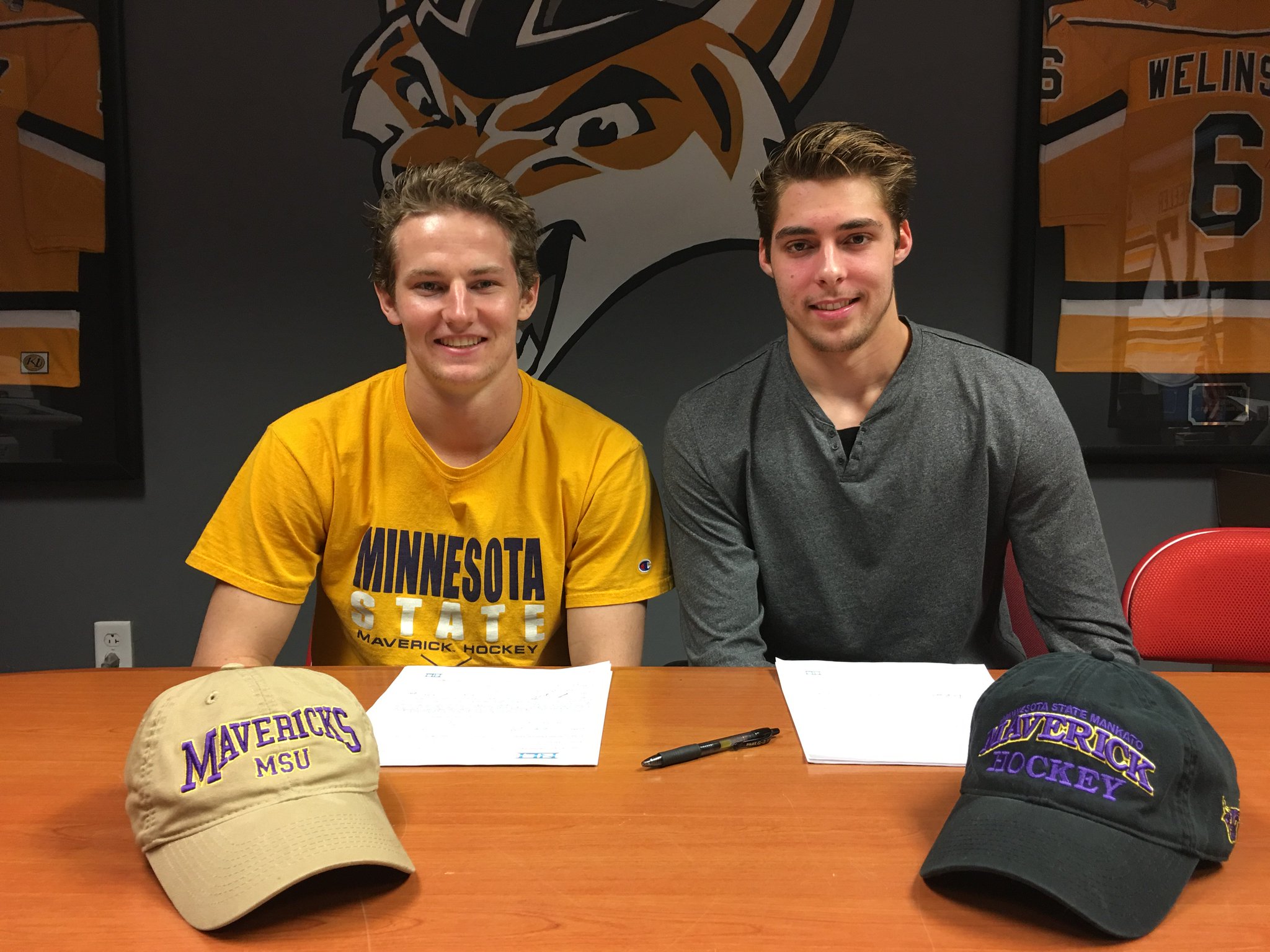 The Green Bay Gamblers' Jared Spooner and Connor Mackey.
Green Bay Gamblers photo
Jared Spooner
, is a 6-0, 185-pound forward, who has six goals and 10 points in 14 games for the Green Bay Gamblers, where he is a team captain. He had 17 points in 55 games last season and spent the previous season in the NAHL in his hometown of Bismarck, North Dakota.
"He's a very honest player who plays a 200-foot game," Knott said, comparing Spooner to former MSU player Dylan Margonari. "He's a warrior of a kid."
Dallas Gerads
, a 5-9, 195-pound Blaine native who has seven points this season for Dubuque. He is the team captain for the Fighting Saints, with whom he had 30 points a year ago. He also spent a season with Rio Grande Valley of the NAHL.
"He plays a similar role (to Spooner)," Knott said. "He's old school; he'd rather go through you than around you."
Connor Mackey
was named the USHL's defenseman of the week the last two weeks. The 6-2, 190-pound Barrington, Ill., native has 13 points in 14 games and is the top-scoring defenseman in the league. The Gamblers' assistant captain is the son of Dave Mackey, who played in 126 NHL games for the Blackhawks, North Stars and Blues from 1987 to 1994.
"He's got very good hockey sense," Knott said. "There aren't a lot of holes in his game."
Riese Zmolek
is a 6-1, 205-pound Rochester Century graduate. Back from injury, he's played in just two games for Cedar Rapids but had 11 points in 56 games last season. He is he son of former NHL defenseman Doug Zmolek, who played for the Sharks, Stars, Kings and Blackhawks from 1992 to 2000.
"He's got good hockey sense; he plays the game the right way," Knott said, comparing him to current MSU captain Carter Foguth. "He's an honest, defense-first player who makes the game hard on the other team's best players."
Jack McNeely
is a 6-3, 185-pounder from Lakeville North. He has one assist and is plus-2 in 12 games with the Tri-City Storm. He is the Storm's captain. A year ago, he had 10 assists and was minus-2 in 70 games, including the Storm's playoff run to the USHL title.

"He's a long-body, athletic kid who plays a simple game," said Knott, comparing him to former MSU player Brett Stern. "He's worked extremely hard to get stronger. (Tri-City) has done a great job with him and his development."

Matiss Kivlenieks, is a 6-2, 190-pound goalie from Riga, Latvia (Teddy Blueger's hometown), who ranks sixth in the USHL with a 1.86 goals-against average and seventh with a .928 save percentage. He played last season with Coulee Region of the NAHL where he won 16 games and had a .925 save percentage. He's also played twice for Latvia's U20 national team.

"With goalies, it's about history," Knott said. "He started at the Junior B level in Minnesota when he was 17 and worked his way up. He's been through a lot already."

In other signing news from Wednesday, Hastings' daughter, Hannah, a catcher for the Mankato West High School softball team, inked her NLI to continue playing at Minnesota State.