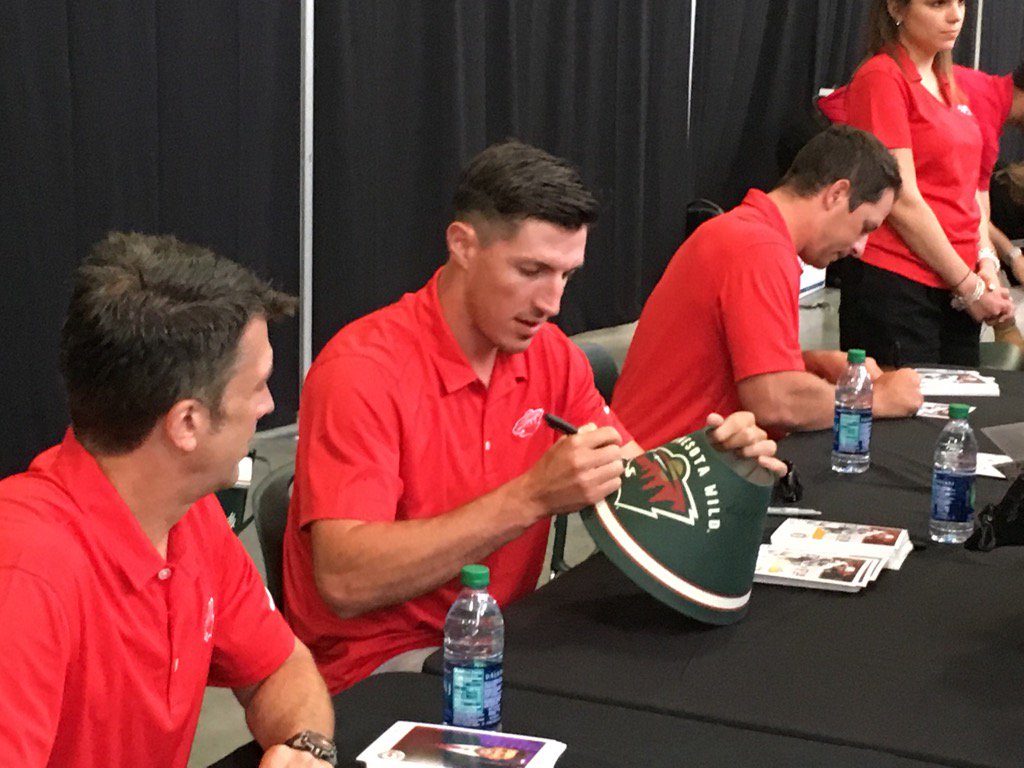 Shane Frederick photo
Ryan Carter was in New Ulm on Wednesday as part of the Minnesota Wild Road Tour. The Wild forward and former Mavericks player (2004-2006) joined former Wild player Keith Ballard and play-by-play man Anthony LaPanta, and they signed autographs for an hour straight. It was a nice turnout at the New Ulm Civic Center with a steady stream of hockey fans going through the line.
Carter will be a free agent on July 1, and it will be interesting to see if he returns to the Wild, the team he's played with for the last two seasons, or if he ends up else where. His goal, he said, is to win a Stanley Cup "the old-fashioned way."
If you recall, he won one with the Anaheim Ducks during his first year of pro hockey. He grinded out the season in the minor leagues before getting called up for the playoffs. He played in four games, including less than 3 minutes of ice time during the Finals. That was enough to get his name on the Cup and his day with the trophy. But, now 32, he'd like to win one by helping a team from training camp on through the postseason.
He came close a few years ago with the New Jersey Devils; will he get another shot?
Please read my entire Free Press story about Carter
here
.
I also spoke to Ballard for a few minutes. The former Gopher played junior hockey for Mike Hastings in Omaha in 2000-01 and has fond memories of playing for the current MSU coach. It was challenging at times, he admitted, but the Lancers won a national title at the end of of the year.
Also, New Ulm had several stations for hockey fans to go through before meeting the Wild group. One of those was the new junior hockey team in town, the
New Ulm Steel
. The
North American 3 Hockey League
(NA3, for short) team, which moved to southern Minnesota from the Twin Cities, will be the subject of a Sunday Free Press story. Stay tuned ...