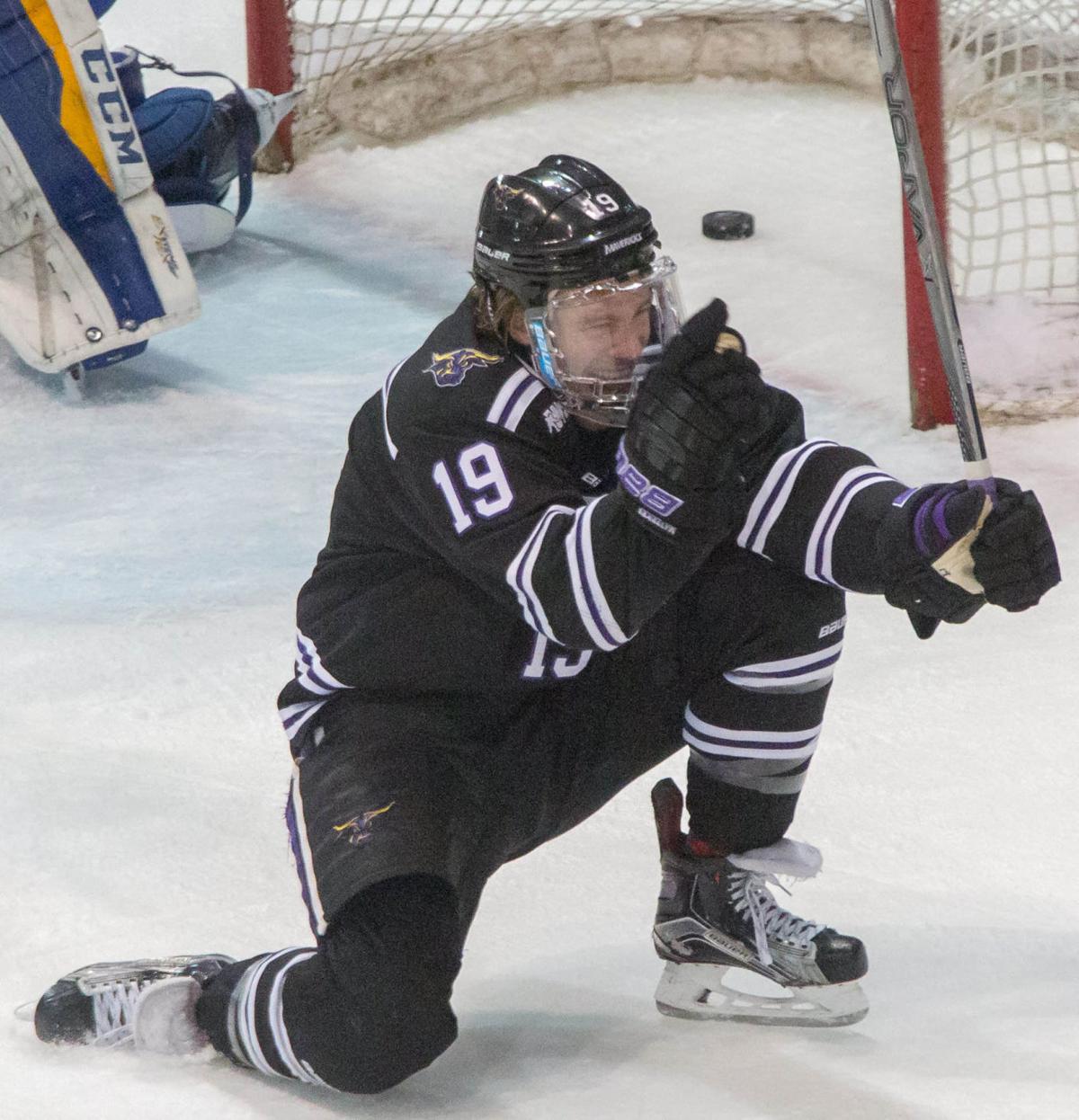 Trevor Cokley/The Free Press
Freddy's three thoughts of the game ...
1. His time to shine:
If it's the postseason, it must be Brad McClure Time. You can read much more about the sophomore forward's breakout performance in my
Free Press game story
, but, as he did in last year's playoffs, McClure came through big-time on Friday. He had three points — a goal and two assists — in the first period to get MSU off to a good start. His goal — his first since Nov. 20 — came 38 seconds after Lake Superior State tied the game at 2-2 late in the frame. After his fantastic run a year ago in Final Five when he had five goals and an assist to earn MVP honors (he had six goals and two assists in four WCHA tournament games), a lot was expected on him this year. But he had just seven points in the regular season, playing in all 36 games. "I just tried to put in my work every day," he said. "That's the only thing I can control, so I try to come to the rink and do that."
2. Power surge:
The Mavericks finished 3 for 5 on the power play, breaking a four-game drought with the man advantage. Jon Jutzi, Dylan Margonari and Daniel Brickley had the power-play goals. McClure set up the first two. Special teams could be a big key to MSU's success in the postseason, so it's off to a good start. The Mavericks also blanked the Lakers on four power-play opportunities, limiting them to just four shots on goal. Minnesota State had nine of its 41 shots during the power play. Asked about what made the power play effective on Friday, coach Mike Hastings said, "Puck movement, support, good decisions by the guys that were down low, winning some faceoffs and having some significant in-zone time."
3. Future's bright in the Soo:
Lake Superior State has improved greatly from a year ago when the Mavericks blew them out of the playoffs 9-2 and 4-2, as well as from January when MSU swept the Lakers in Mankato pretty handily 8-0 and 5-1. The Lakers had eight freshmen — seven forwards, including Gage Torrel, an all-rookie team snub — and five sophomores in the lineup on Friday. One of the sophomores is third-team All-WCHA goaltender Gordon Defiel, who made some outstanding saves throughout the game. The Mavericks should close things out on Saturday night, but coach Damon Whitten has a team to be reckoned with in the future, that's for certain.
Around the WCHA:
Michigan Tech 7, Alaska 1 ... Bemidji State 3, Bowling Green 1 ... Ferris State 3, Northern Michigan 2