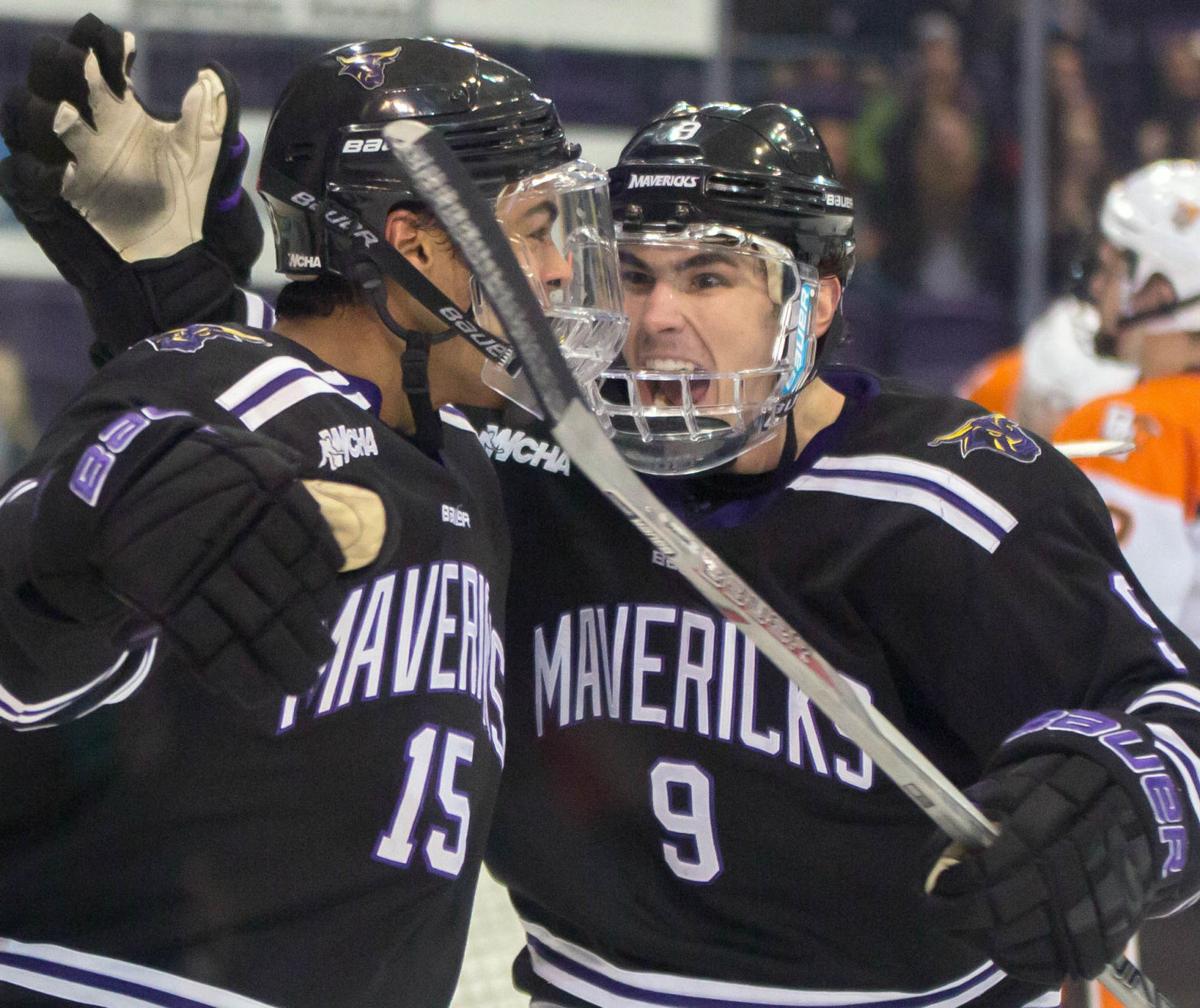 Trevor Cokley, The Free Press
Freddy's three thoughts of the game ...
1. Call him Shorty:
Bryce Gervais scored two goals short-handed goals in the same penalty on Friday night, a feat that put away the game for the Mavericks just as the Falcons started to make a push. Gervais now has nine short-handed goals for his MSU career, and that now stands as the school record. More importantly, perhaps, it may be a sign that he's getting out of the goal-scoring funk he's been in for much of the season, at least in the last 12 games when he's scored just one. Gervais now has 10 goals for this season, but had 27 last year. His career total is now 61, which puts him fourth on the Mavericks' Division I-era list behind Shane Joseph (68), Jesse Rooney (67) and Tim Wolfe (65). "Once he gets going, he's hard to stop," said Teddy Blueger, who assisted on both shorties. "He showed that last year."
2. Scoring sensation:
Minnesota State has been scoring goals at a breakneck pace over the last five games, potting 25 pucks over that span, including 18 in three home games. Michael Huntebrinker, Max Coatta and C.J. Franklin scored MSU's first three goals, with Coatta (who also assisted on Huntebrinker's goal) and Franklin (power play) keeping some hot streaks going. Franklin has nine points over a five-game point streak. "We've had more guys making plays lately and they're not easy ones," coach Mike Hastings said. "In our league right now, in college hockey, you have to work so hard to score goals. We did them in different ways tonight, and if we can continue that we'll be OK. If we don't, you make the game harder on yourself."
3. Tight at the top:
Minnesota State increased its lead over Bowling Green atop the WCHA standings to four points with the win. The 5-1 score doesn't much look like most of the games played against these two teams, who tied twice in Ohio in December and who have played five overtime games in their 10 meetings over the last three years. However, both Hastings and Falcons coach Chris Bergeron said the game was more closely played than the score indicated. Hastings said Cole Huggins (18 saves) was "outstanding," and the goalie allowed only a short-handed breakaway goal in the third period. Bergeron said MSU's veteran players got the job done when his team's didn't. "In a game like that, you're on the edge of making a mistake and they're going to capitalize, and that's what happened," Bergeron said. "The shots were 21-19. It was a fairly even game at times. But they were way more opportunistic than we were."
Read my game story
here
.
Around the WCHA:
Northern Michigan 3, Alaska Anchorage 2 ... Michigan Tech 3, Lake Superior State 0 ... Ferris State at Alaska (late)