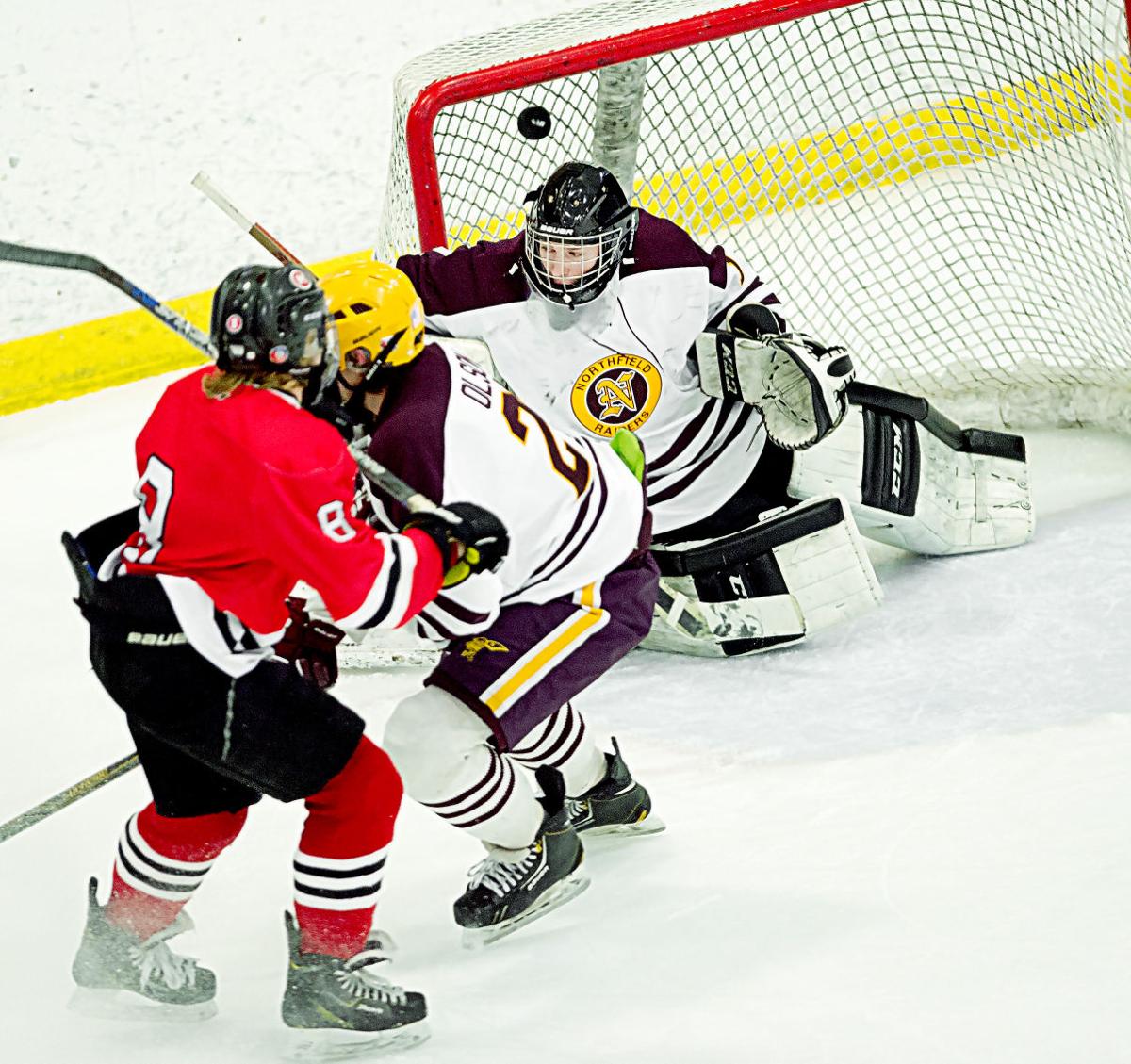 Darren Gibbins/The Free Press
Freddy's three thoughts of the game ...
1. Third time's a charm:
The Scarlets played Northfield twice during the Big Nine Conference schedule and lost both times, by scores of 8-3 and 5-2. If you're going to finally beat a team, it might as well be in the section championship game. The Scarlets outshot the Raiders 28-25 and controlled the action for most of the night — from the opening faceoff. Northfield, the top seed and a team trying to get to state for the first time, looked tight early on, while West seemed loose. I wasn't the only one who observed that, talking to a few people between periods and after the game.
2. Unlikely hero:
When it's do-or-die time, you often see unexpected players come up big. That was the case for the Scarlets, as freshman forward Nick Wieben, a converted defenseman scored the game's only goal, the game-winner, at 8:30 of the third period. The goal is pictured above. It was set up by a nice pass chipped off the glass by Kyle Looft, and Wieben raced in from there, backhanding the shot above the goalie's shoulder. He got a little aid from the Northfield defenseman, who appeared to screen his teammate just enough to lose sight of the puck.
3. Back to state:
The Scarlets are back at state for the first time since 2008. This team becomes the third Mankato team to get to the tourney, joining the '08 team as well as the '06 East/Loyola team. West has been close to getting back before. The Scarlets lost section finals in 2013 and 2014. For head coach Curtis Doell, who was an assistant coach on the '08 team, and senior Tyler Loe, Wednesday's game marked another third-time's-a-charm situation, as they've been involved in the last three section finals. West has won five games in a row, including three playoff games: 2-1 in double overtime over Albert Lea, 5-1 over Le Sueur-Henderson/St. Peter and 1-0 over Northfield.
Read my Free Press game story
here
.