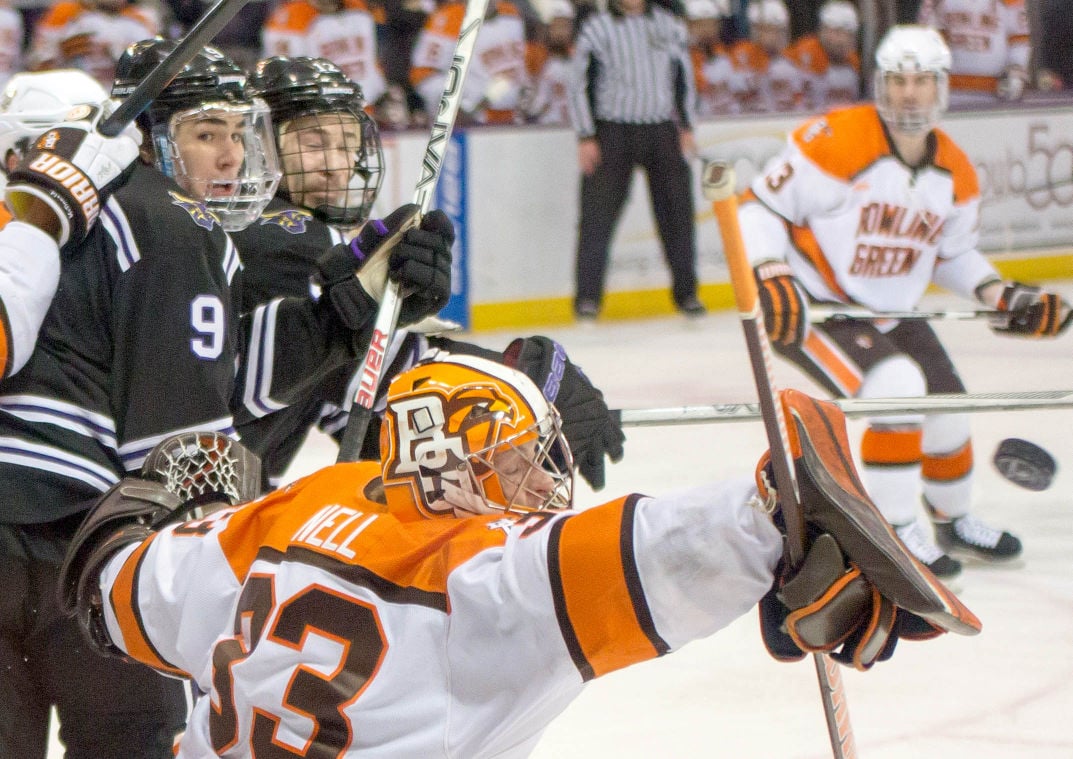 Trevor Cokley/The Free Press
Freddy's three thoughts of the game ...
1. The race is on:
Minnesota State was unable to extend its lead in the WCHA standings as the Falcons cooled the Mavericks' jets on Saturday night. Now the top of the league is stacked, with MSU holding a two-point lead over Bowling Green and Michigan Tech, which swept Lake Superior State. Each of those teams has six league series remaining with MSU going to Huntsville and Anchorage before hosting Bemidji; BGSU going to Alaska and Huntsville with Ferris at home in between; and Tech going to Bemidji, hosting Alaska and playing Northern home and home. Anything can happen. "We just had to move on and know we can be a top team in our league, even though the score didn't show that last night," said Falcons senior Mark Cooper, who scored two goals. "Tonight, we showed we can play with the best in the WCHA."
2. Back to beginning:
While the game was fast and physical with both teams pushing the pace, there were times when the Mavericks carried play and, perhaps, reverted back to earlier in the season when they simply couldn't score despite some lopsided in-zone time and shot totals. Credit Bowling Green goalie Chris Nell, who has the best numbers in the WCHA (currently .933 SV%, 1.74 GAA), and stopped 31 of 32 shots, including 14 in the third period on Saturday. But MSU also had 83 shot attempts, 34 in the third period, but missed the net 24 times and had 27 shots blocked. Mavericks coach Mike Hastings said his team did a good job moving Nell around and "taking away his eyes" on Friday. "I didn't think we were as consistent with that tonight," he said.
3. Regression to the mean:
We probably shouldn't have expected the Mavericks to keep up the scoring pace of the last five games when they averaged five goals per. So which team are they? The one that can score at least three when it needs to or the one that might get stuck with one against a good team, as it did tonight and at Michigan Tech three weeks ago? Hastings said there was less panic in his team's play compared to when it was having some offensive troubles during the beginning of the season, so that's encouraging. If the top teams end up in Grand Rapids, though, MSU will need to find a way to score to win the Final Five and get back to the NCAA tournament. The loss, couple with some other results, including Minnesota's loss to Penn State, dropped the Mavericks from 15th to 23rd in the Pairwise Rankings.
Read my game story
here
.
Around the WCHA:
Michigan Tech 3, Lake Superior State 1 ... Northern Michigan 5, Alaska Anchorage 4 ... Ferris State at Alaska (late)