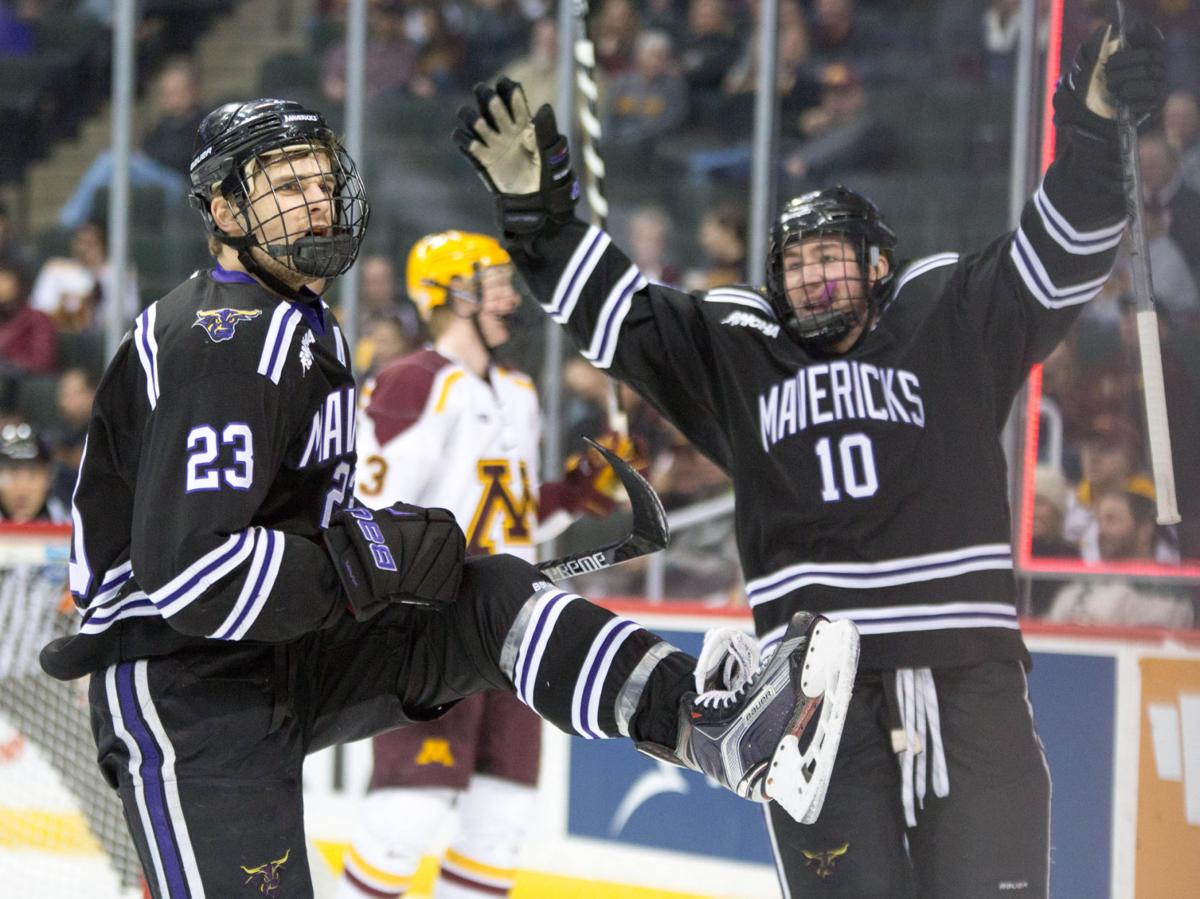 Trevor Cokley/The Free Press
Freddy's three thoughts of the game ...
1. Kill comes through:
Minnesota State gave up a late power-play goal in its loss to St. Cloud State in the North Star College Cup semifinals and, against Minnesota took two late penalties while holding on to a one-goal lead. In the third-place game, however, MSU killed off the penalties (they had allowed two power-play goals earlier in the game) to win the season rubber match with the Gophers. It was a special-teams game, with each team scoring a 5-on-3 power-play goal and the Mavericks getting the game-winner from Teddy Blueger on the power play. Only the game's first goal — credited to Blueger but essentially an own-goal for Minnesota — was even strength. MSU ended up 2 for 5 on the power play, and the Gophers were 2 for 6.
2. Huggins gets the nod:
Mavericks coach Mike Hastings used a little self-deprecating humor when talking about starting Cole Huggins in goal. Huggins was the WCHA's Defensive Player of the Week after allowing one goal in two games against Lake Superior State a week ago. Freshman Jason Pawloski got the start against St. Cloud State and was pulled after allowing three goals (Huggins ended up taking the loss in the 5-4 game). Huggins stopped 21 of 23 shots against the Gophers, including a big partial 2-on-0 breakaway when it was Bua 2-2 game in the third period. "I thought that was big," Hasting said of Huggins' bounce back. "He played two games for us last weekend and the genius coach plays the other guy? But I thought Pawloski's done a really good job of leading us here over the last two months, earned his opportunity. And then Huggins came in and played well. I thought he played really well, especially, in the third period, giving us some penalty kill saves." Watch comments from Huggins below:
3. Centers of attention:
Blueger finished the game with two goals and an assist, and was a factor all over the ice. "As the season progresses, teams that are successful late have their leaders do a lot of heavy lifting, and I thought Teddy Blueger really forced himself on the game, especially in the third period," Hastings said. "And not just the goal that he scored. I thought, coming out of our end, he played with some poise, didn't throw the puck around and create opportunities for them." Meanwhile, C.J. Franklin continued his hot streak, scoring a wicked power-play goal and assisting on Blueger's game-winner. He now leads MSU with 11 goals and has eight points in his last four games. Blueger now has 24 points to lead the Mavericks in scoring. He's three points away from 100 for his career.
Read my game story
here
.
Around the WCHA:
Michigan Tech took three of four points at Bowling Green to tighten up the top of the WCHA standings. MSU leads Bowling Green by two points (and the two teams play in Mankato next weekend), and Tech is in third place, four points out of first. ... Alabama Huntsville and Alaska Anchorage split their series in Anchorage. ... Alaska got swept in a nonconference series at Wisconsin. ... Northern Michigan split a nonconference home series against Minnesota Duluth.