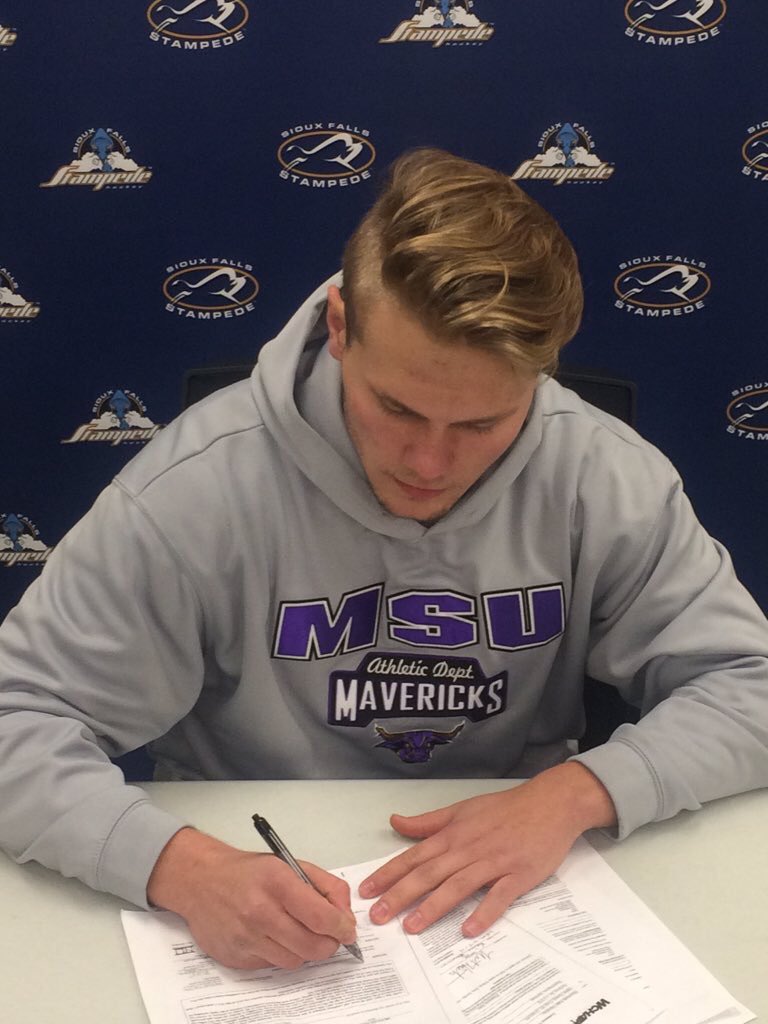 Parker Tuomie signs his NLI.
The early signing period for college hockey began Wednesday, and several players wasted no time getting their signature on the scholarship.
Minnesota State
signed seven players
at the start of the early periods, bringing in a rather dynamic class of USHL talent that has been lighting up that league.
"You never know about freshmen, but I like their history," MSU coach Mike Hastings said, praising assistant coach Todd Knott along with assistant Darren Blue for their work in the recruiting process. "They going to have to have an impact on our team immediately."
Here's a look at the group, with further comments from Hastings.
•
Parker Tuomie
, F, Sioux Falls Stampede. A a native of Hassfurt, Germany, of the Sioux Falls Stampede ranks second in the USHL in points with 16 and is first in goals with 11 through 13 games. His father, Tray Tuomie, is a Minneapolis native who played at St. Cloud State and Wisconsin before playing professionally in Germany. "I like his history of scoring goals," Hastings said. "He's a shooter. He also has a history of being a leader."
•
Jake Jaremko
, F, Chicago Steel. The Elk River native was Minnesota's Mr. Hockey in 2015 and currently is tied for seventh in the USHL in scoring with 12 points, including eight goals. He had 193 points in four high school seasons, including 68 as a senior when he was named the state's top player. "Jake has started off really well in the USHL," Hastings said. "He's solid down the middle. He can see the ice. He's been a distributor and a finisher."
•
Nick Rivera
, F, Omaha Lancers. A native of Pacific Palisades, Calif., the Lancers captain has nine points, including five goals currently. He scored 28 points last season and spent the year before that with the NAHL's Wenatchee Wild. "We were impressed with (his leadership) in the recruiting process," Hastings said. "He can play a lot of different ways. He's a hard player and is all the time, but he can finish, too."
•
Michael Bigelbach
, D, Omaha Lancers. A Red Wing native, Bigelbach is a 6-2 defenseman who is in his second season in Omaha where he is an assistant captain. He had eight points and 133 penalty minutes last season. He also spent a year in the NAHL after high school. "He's a transition-type of D," Hastings said. "From the red line to our end is his greatest strength, but he's got some offense. ... He's got some mental toughness. He's quiet and unassuming, but he's got some bite to him."
•
Josh French
, F, Omaha Lancers. A third member of the Lancers' leadership group is French, a Woodbury native who played high school hockey at Hill-Murray. He has 11 points in his second season with the Lancers and had 27 last year. As a high school senior, he had 24 goals and 43 points in 25 games. "If there's a word I can say about French, it's 'substance,'" Hastings said. "He'll help us down the middle, on the power play, penalty kill. He plays in all situations. He's a heady player and can skate."
•
Charlie Gerard
, F, Madison Capitols. A second-year USHL player, the Rocky River, Ohio, native has five goals and eight points so far this season. He had 33 points last season and previously played for the U18 Ohio Blue Jackets. "He has a history of scoring goals," Hastings said. "He has a great release and will shoot from everywhere. (Capitols coach) Troy Ward has really helped round out his game."
• Marc Michaelis, F, Green Bay Gamblers. Another native of Germany, who has 11 points, including 10 assists in his second junior season, and was a teammate of Tuomie's on Germany's World Junior team last winter. "Parker (Tuomie) went to bat for Marc, and we liked what we saw," Hastings said. "He sees the rink very well and is a good skater."