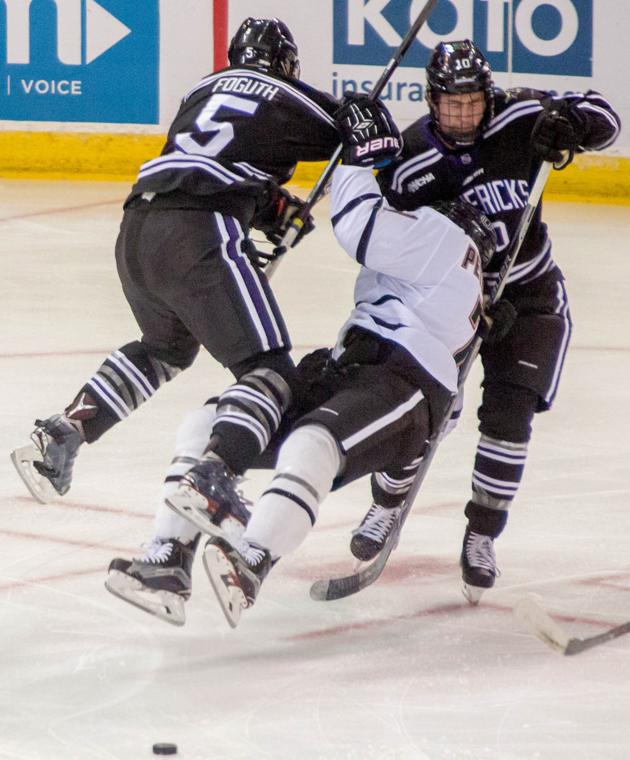 Trevor Cokley/The Free Press
Freddy's three thoughts of the game ...
1. You don't see this everyday:
Saturday's loss was significant for a number of reasons. It's something you just haven't seen in the Verizon Wireless Center over the last couple of seasons. For one thing, MSU had lost just three times in its home rink in the previous two seasons, going 31-3-2 in Mankato. The Mavericks haven't been swept at home since coach Mike Hastings' first season, when Wisconsin won a pair of overtime games (remember John Ramage?) here. Then there's getting shut out at home, something that hadn't happened in the Hastings era. The last time that happened was Jan. 14, 2012, also against Wisconsin and goalie Joel Rumpel (Phil Cook returned the favor the next night). The back-to-back losses were the first since January of 2014 when it lost three in a row to Minnesota Duluth, St. Cloud State and Northern Michigan. The last time MSU was shut out was Nov 16, 2013, at Minnesota. The last time the Mavericks were shut out at home was Jan. 14, 2012 against Wisconsin.
2. Better but more questions:
Minnesota State was better in overall hockey play Saturday than it was Friday, out-shooting Omaha 40-18 and out-attempting its foes 88-45. Lots of credit has to go to freshman goaltender Evan Weninger, who was playing in his first-ever college game. He made some fantastic saves. He also got a lot of help from his teammates, who mucked up the ice in front of him and blocked 21 shots. The Mavericks didn't help themselves, either, missing the 24 times, a trend that seems to go back to their NCAA game against RIT last March. For 4 1/2-5 periods of hockey this weekend, Minnesota State was the better team. But, to quote the coach: "Ultimately, the end of the result is: Shots don't win you hockey games, goals do."
3. Tough-Luck McClure:
Sophomore forward Brad McClure, who scored 15 goals last season and was the hero of the WCHA Final Five, was shut out on 10 shots on goal, a quarter of the Mavericks' shots. The line of McClure, Huntebrinker and Brett Knowles seemed to be a tough matchup for Omaha to handle. Huntebrinker had five shots on goal, including a Grade-A, sure-fire, back-door chance on a power play that Weninger somehow robbed. Weninger also got just enough of a McClure shot on a 2-on-0 play with Bryce Gervais — I mean, one of those guys has got to score there, right? —who went back and forth with the puck before McClure pulled the trigger. Knowles had two shots on goal but fired just wide on a 2-on-1 rush with Jimmy Mullin shortly before the 2-on-0 play. One of those nights.
For more, read my game story
here
.
Around the WCHA:
Michigan State 4, Lake Superior State 1 ... Western Michigan 1, Ferris State 1 (OT) ... Bowling Green 2, Ohio State 0 ... Northern Michigan 3, Wisconsin 3 (OT) ... Bemidji State 3, Minnesota Duluth 2 ... Alabama Huntsville 5, Connecticut 2 ... Arizona State 2, Alaska 1 ... St. Cloud State 6, Alaska Anchorage 2