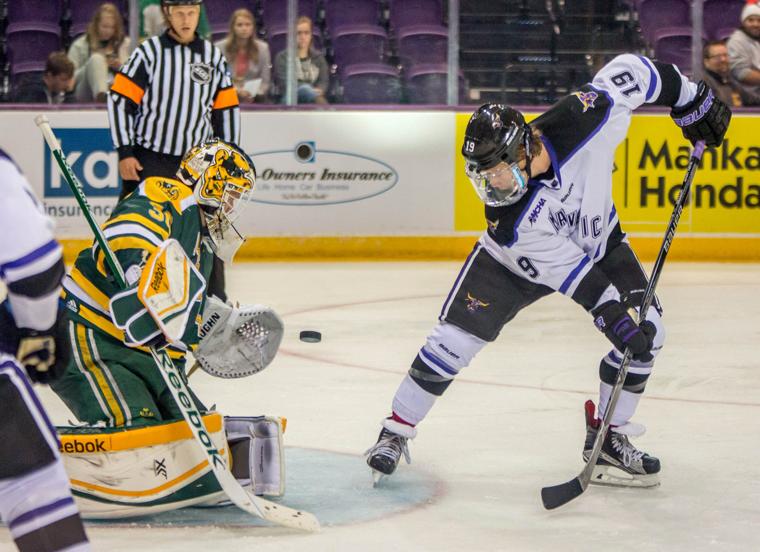 Trevor Cokley/The Free Press
Freddy's three thoughts of the game ...
1. Please, please ... no wagering:
To quote the great David Letterman, before that line, he'd say, "This is an exhibition, not a competition." That was partially true on Sunday. It was indeed an exhibition that doesn't count for much of anything. This year, however, it was at least competitive, even if it didn't work out in the home team's favor. The Mavericks should have gotten a heck of a lot more out of this year's loss against a decent Canadian college team (the two-time champions, as a matter of fact) than, say, last year's 12-1 walkover win against a very inferior opponent in Trinity Western. The Mavericks started slowly, got caught chasing the Golden Bears around the rink early and fell behind 3-0. Two of the goals deflected in off MSU defenders, including a very flukey one for the second goal. They had a couple of good looks late but couldn't tie the game.
2. On the Hunt:
Michael Huntebrinker scored one of the Mavericks' two goals. (C.J. Franklin had the other). He also led MSU with four shots on goal. He looked good, playing center between Brett Knowles and Brad McClure. Last season, it seemed, he fared well when playing in the middle compared to when he was on the wall. His goal was his fourth in exhibition play, equalling his total in regular-season play. If the Mavericks are to maintain the level of play they've achieved over the last couple of seasons, his play there will be critical. With Matt Leitner gone and Dylan Margonari on the shelf with a stress fracture for about six weeks, Huntebrinker can be the team's No. 2 center behind Teddy Blueger. Junior Jordan Nelson and freshman Ryan Schwalbe were the other centers in the game.
3. Who are these guys?
Certainly is weird to see this team without Leitner, Jean-Paul Lafontaine, Chase Grant, Max Gaede, Zach Palmquist and Brett Stern on the ice, especially when a few of their numbers have resurfaced on different bodies. Schwalbe has Stern's 27 and centered Steen Cooper in Palmquist's 7 and Max Coatta in Lafontaine's 12. Defenseman Daniel Brickley is in Gaede's 8. That old group played a lot of games for the Mavericks. Too soon to tell what kind of impact the newcomers will make. Jason Pawloski was solid in goal in the third period, stopping 7 of 7 shots. Brickley struggled at times with the college speed but kept getting thrown back out in the deep end to see if he could swim. There should be good competition among the new forwards to see who will get in the normal 20-skater lineup.
Read my game story
here
.