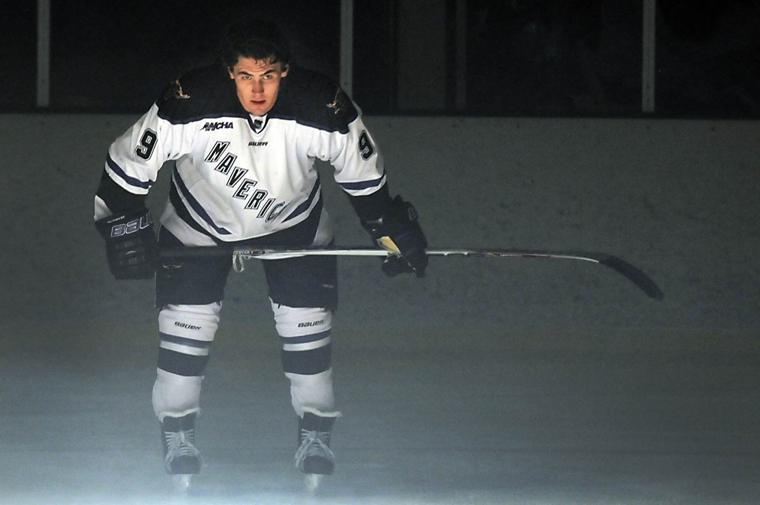 Pat Christman/The Free Press
Hockey's back!
Minnesota State begins the regular season today at the Verizon Wireless Center with the first of two games against non conference rival Nebraska Omaha. It's a matchup of two preseason top-10 teams with the home team ranked sixth and the visitors coming in 10th.
For the Purple Mavericks, senior winger Bryce Gervais (pictured) comes in as
one of the nation's top goal scorers
. He has 51 goals over his first three college seasons, which is an accomplishment at Minnesota State. Here's a list of all of MSU's 50-goal scorers in the Division I era. Most of them took four years to get there:
Shane Joseph 68
Jesse Rooney 67
Tim Wolfe 65
Tyler Deis 60
Travis Morin 58
Aaron Fox 57
Eriah Hayes 52
Bryce Gervais 51
A quote from Gervais that didn't make the story: "I feel like I just need to bring my game. I bring a lot of energy to the team when I'm playing fast and when I'm hitting guys, not only scoring goals but doing the little things right. I think I build off that, and I think my teammates build off that as well."
Read The Free Press' gameday preview
here
.
The series pits two teams that appeared
destined to play each other for the Frozen Four
last spring, only to have that notion spoiled when MSU was upset in the first round of the Midwest Regional in South Bend. Omaha ended up winning the regional and advancing to Boston.
While there's a lot of excitement in Mankato for MSU's new hockey facility at the Verizon Wireless Center, down in Omaha, a
brand new building
is opening up
at UNO
, and coach Dean Blais
couldn't be more excited
.
Chris Dilks of SB Nation's College Hockey blog
takes a look at
MSU-UNO series, too.
Staying on the subject of MSU's arena changes (the final touches are still being completed there, and I hope to have more complete coverage when they're finally done; that includes the scoreboard), the women's team will play its first games at the Verizon Wireless Center since 2008 today and Saturday against North Dakota. They, too, are calling the downtown arena home from now on. A side note on that series: Two former Mankato East teammates will go against each other as Savannah Quandt plays for MSU and
Rebekah Kolstad plays for UND
.
Several WCHA teams are in action this weekend to kick off the men's season. For a full WCHA preview, check out my and Jack Hittinger's column and team capsules
here
. And read our weekend picks
here
.
In Alaska, Anchorage and Fairbanks will play in the former's Kendall Hockey Classic, along with upstart Arizona State and St. Cloud State. The Seawolves,
as Doyle Woody writes
, are trying to put last season's struggles behind them. The Nanooks, meanwhile, are led by WCHA Preseason Player of the Year Tyler Morley, who, according to Tim O'Donnell,
relishes the pressure
.
Bemidji State isn't afraid of tough early season schedules. The Beavers take on No. 2 Minnesota Duluth in a home-and-home, meaning their
young blueliners
will need to grow up fast, says Jack Hittinger.
In other WCHA action, Ferris State plays home-and-home with Western Michigan and Bowling Green does the same with Ohio State. Northern Michigan plays at Wisconsin, Alabama Huntsville hosts Connecticut and Lake Superior State goes to the Icebreaker tournament in Maine.
College Hockey News also
takes a look at
the WCHA season.