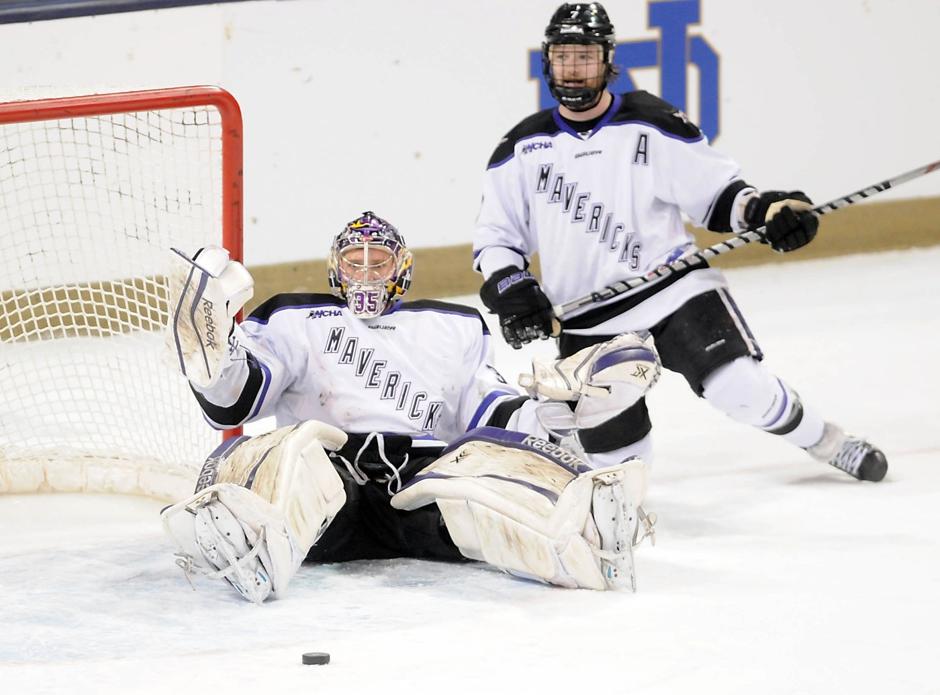 Pat Christman/The Free Press
Freddy's three thoughts of the game ...
1. Season's over:
What a tough, gut-wrenching loss for the Mavericks. A stunning 16-over-1 upset by RIT, but one that was also marred with controversy. The game-winning goal was initially (and rather emphatically) ruled no-goal on the ice, as it appeared that Matt Garbowsky hit Zach Palmquist, who stumbled backward into goalie Stephon Williams as Josh Mitchell's shot whistled by. But after review, the referees reversed their call. The NCAA issued a press release, saying:
NCAA official statement on the use of video replay:

At the 5:51 mark of the third period, the on ice call determined by the referees was no goal as a result of contact by the RIT forward into the Minnesota State defensive player. The referees felt this contact caused the Minnesota State goalie to be interfered with on the play.
Upon further video review, the referees determined that the Minnesota State player initiated the contact with the RIT player and overturned the initial on ice call.
Trying to be an objective reporter here, but that explanation seems dubious at best. Really thought Palmquist got checked pretty good by Garbowsky as he skated by.
Mike Hastings' quote, really, says it all for how he felt about it: "I started playing hockey at 6. I'm 49. That's a tough one to swallow."
2. Scoring drought:
While that goal proved to be massive in the outcome of the game, it doesn't take away the fact that the Mavericks simply couldn't score. Lots of missed nets. Just 1 for 5 on the power play. And, of course, a great performance by goalie Jordan Ruby. Minnesota State has scored just two goals in its last three NCAA tournament games, all losses, getting shut out by Miami two years ago and going scoreless until 10 seconds remained against UMass-Lowell last season. MSU got away with Matt Leitner, Bryce Gervais and Jean-Paul LaFontaine being held off the scoreboard last weekend at the Final Five (save for an empty-netter by Gervais), but a second week in a row, no matter how deep an offensive team they are, was playing with fire.
3. They'll be missed:
The Mavericks' group of six seniors helped lay a rather nice foundation for the program. Leitner, LaFontaine, Palmquist, Chase Grant, Max Gaede and Brett Stern came, with Hastings in charge, took MSU to a different level — three NCAA tournaments, a WCHA championship, two Final Five titles, a No. 1 ranking for the first time. Pretty good stuff. The team is going to look awfully strange without that group, which has played so many games, rarely sitting as healthy scratches, since they first arrived. The next step for the current and future players is for the program to win at the national-tournament level.
Read my game story
here
. Read my regional notebook
here
.