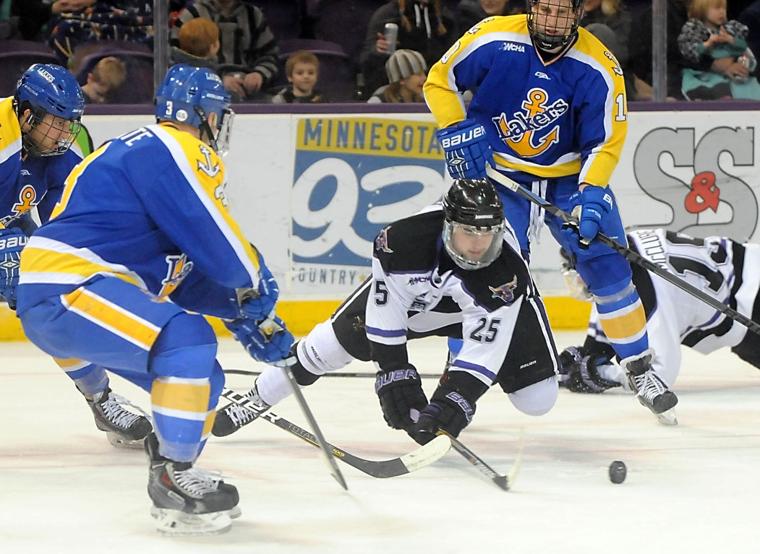 Pat Christman/The Free Press
Freddy's three thoughts of the game:
1. Going deep:
What more can be said about Minnesota State's depth that hasn't 't been said? On a night in which the Mavericks didn't play their best game and the desperate Lakers made things much tougher on the league champs than they did in Friday's opener, MSU needed a little spark. It came from their third line. Dylan Margonari scored two goals, Brad McClure had a goal and an assist and Zach Stepan had an assist as pretty as something Matt Leitner might do on a regular basis to get the Mavericks going. Margonari continues to impress and has 10 of his 14 goals in the Mavericks' last 18 games. McClure, a freshman who had MSU's lone power-play goal in the game, now has 10 goals and 23 points for a rock-solid rookie season.
2. Stepan up:
A week ago in Bemidji, Stepan was a healthy scratch, sitting out a game for the first time in eight games. He returned on Saturday and was strong in the Mavericks' MacNaughton Cup-clinching victory over the Beavers. He continued that play against Lake Superior State, too. "I think that was one of those messages that needed to be sent," said Stepan, who has 12 points this season after scoring 20 as a freshman. "I sat out the game and watched tape to see what kind of game I need to play. I've tried to keep the intensity going (since returning)."
3. On to St. Paul:
The Mavericks are going to the WCHA Final Five for the third year in a row and this time as the defending Broadmoor Trophy champions. This year's tournament will be at the Xcel Energy Center in St. Paul. They closed out their season at the Verizon Wireless Center in front of a decent spring-break crowd of 3,685 and with a home record of 15-2-1. Coach Mike Hastings brought the seniors — Chase Grant, Matt Leitner (who had an assist to boost his career point total to 162, two shy of tying MSU's D1 record), Jean-Paul Lafontaine, Zach Palmquist, Max Gaede and Brett Stern — onto the ice for some final recognition on their home ice (which is being taken out of the building as I write this), and each got to say a few words to the fans who stuck around after the game. Nice moment.
Read my game story
here
.
Around the WCHA:
Ferris State defeated Bemidji State 3-2 in three OTs on Saturday to sweep that series. Ferris State will play MSU on Friday night at the X. Michigan Tech and Bowling Green also punched their tickets to St. Paul with the Huskies defeating Alabama Huntsville 3-0 and the Falcons getting past Northern Michigan 4-1.