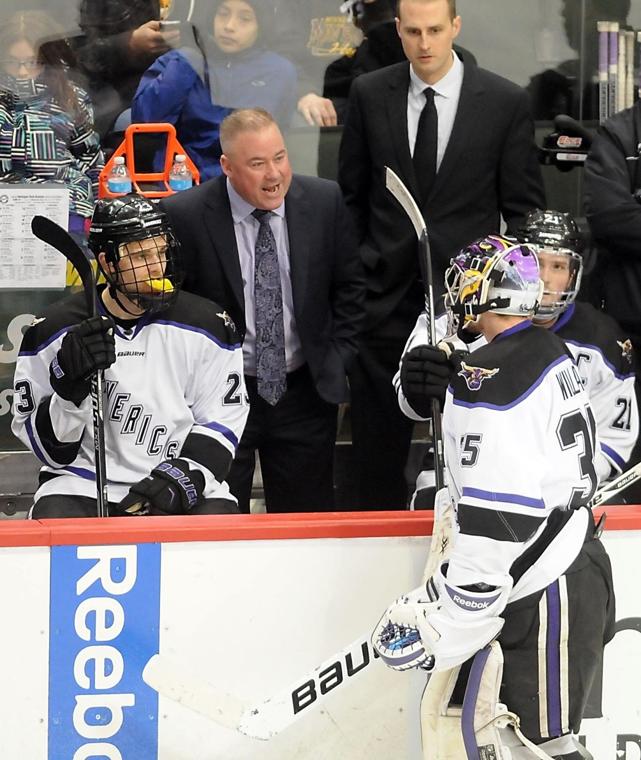 Pat Christman/The Free Press
The Mavericks leave Mankato today (Thursday) for South Bend, Ind., and the Midwest Regional. There will be a practice Friday, followed by a press conference (as well as the same for the three other teams involved in the regional), and my hope is to be there in time for those events for a fresh take on Saturday's game(s).
Talking to coaches and players this week, Minnesota State has been
very business-like
in its approach to the weekend. Other than playing Saturday-Sunday, there isn't much different than any other weekend.
That may start to change on Friday with broadcast meetings and press conferences and other potential distractions. But most of the players on this team have been through it before, especially the juniors and seniors, who are making their third consecutive trip to the NCAAs.
A little more Thursday reading for you ...
• The Omaha World-Herald
talks to a guy it knows very well
, Mike Hastings, and wonders if it will be Mavericks vs. Mavericks on Sunday.
• Everybody's got NCAA-tourney fever, including the folks in Pittsburgh, who have
a native son to cheer for
in the Mavs' Dylan Margonari.
• Rochester Democrat & Chronicle columnist Leo Roth
takes a look at RIT goalie Jordan Ruby
, who's been on a roll as of late.
• Brad Schlossman of the Grand Forks Herald wonders what doomsayers in Mankato and Houghton, Mich., think of conference realignment now,
considering the success of MSU and Michigan Tech
. He also gives a little shout-out to the Mavericks' All-Section-8 coaching staff.
• Speaking of Michigan Tech, not only are the Huskies the f
irst Tech team to make the national tournament in 34 years
but they're the only Michigan team in the field this year.
• College Hockey News' contributors
made their regional picks
, and it looks like Minnesota State and Harvard are the favorites in the Midwest.
• USCHO takes an early glance at the NCAA tournament
by the numbers
.
• College Hockey Inc.
uncovers a few storylines
to follow over the course of the weekend.
The tournament starts on Friday with the West Regional in Fargo (Michigan Tech vs. St. Cloud State at 3:30 p.m.; North Dakota vs. Quinnipiac at 7 p.m.) and Northeast Regional in Manchester (Boston University vs. Yale at 1 p.m.; Minnesota Duluth vs. Minnesota at 4:30 p.m.).