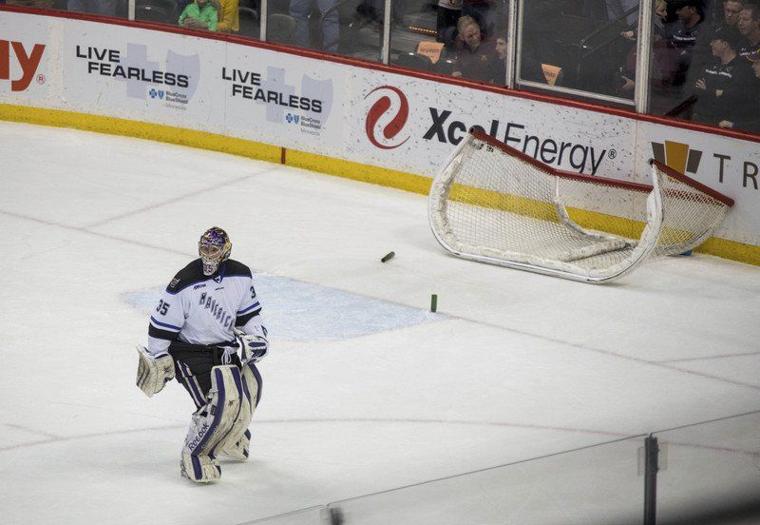 The Free Press
After a fabulous freshman season, Minnesota State goaltender Stephon Williams was drafted by the New York Islanders. Two years later, after an even better junior season, it appears Williams will be signing with the Islanders.
According to sources, Williams is expected to forgo his senior season with MSU and sign with the team that drafted him in the fourth round in 2013.
Williams would not confirm his plans, and there has been no announcement yet.
The Fairbanks, Alaska, native may be striking while the iron is hot. He went 25-6-3 with a .925 save percentage and a 1.65 goals-against average this season.
For his college career, he has 51 victories, which ranks third all-time at Minnesota State and a program-best 10 shutouts. He went 51-24-5 with a .917 save percentage and a 2.01 goals-against average.
A colorful character, who will be remembered not just for his great goaltending but also for a
5-minute stint in the penalty box
and for
flipping over the goal
to get a stoppage, twice won the WCHA's goaltending championship with the league's lowest goals-against average.
After winning 21 games as a freshman, Williams slumped as a sophomore and eventually lost the starting job to Cole Huggins. But he earned it back this season.
As for the Mavericks, Huggins will be back next season. He followed up his 21-win rookie season by going 4-2 with a .864 save percentage and a 2.50 goals-against average in just nine appearances.
Freshman Aaron Nelson also returns, although he did not play outside of an exhibition game in October.
The Mavericks also have a verbal commitment from goalie Jason Pawloski, an Omaha, Neb., native who is in his third season of junior hockey, currently with the Green Bay Gamblers of the United States Hockey League.
The Islanders last week signed Ferris State goalie C.J. Motte, following his stellar career. Motte was an undrafted free agent.