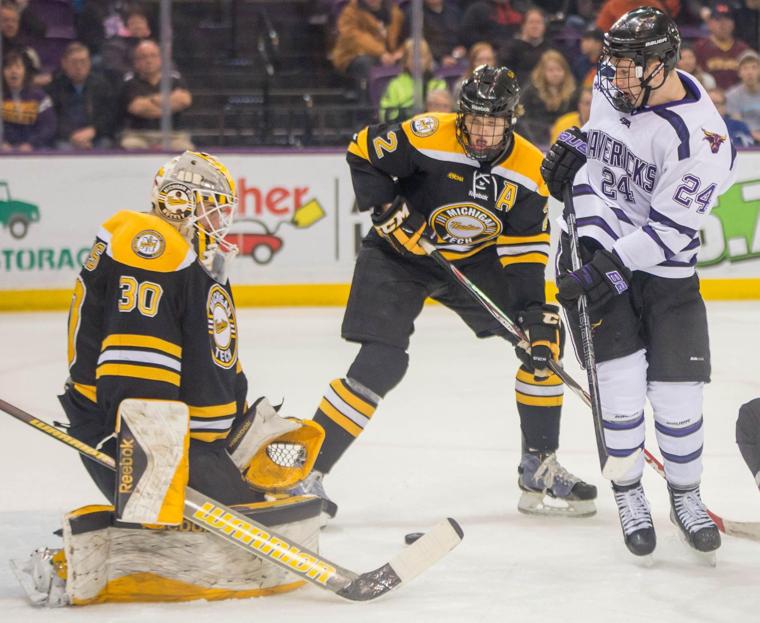 Photo by Trevor Cokley, The Free Press
Freddy's three thoughts of the game ...
1. Missed it by that much:
Minnesota State can still win the MacNaughton Cup, but it will have to do it away from home. The Mavericks outplayed the Huskies, outshooting them 44-23 (out-attempted them 83-61), only to have to settle for an overtime tie. That keeps them one point ahead of the Huskies in the WCHA standings, but, with a win on Saturday, they can only go up by as much as three with four points still to be had on the final weekend when they're in Bemidji. Tech goaltender Jamie Phillips was just two good, making some crazy saves on some great looks. You could tell how much the Mavericks wanted to win so they could go for a sweep and a championship by their play in the final minute of regulation. Their desperation reeked of a team down a goal trying to force overtime, rather than a team simply trying to win.
2. Ready for the rematch?
The fifth-biggest crowd to see a hockey game in Mankato was on hand Friday; 5,172 was the announced attendance. Saturday's game sold out before Friday's did, and one would hope that everyone shows up, even if there's no chance of a trophy celebration. Friday's game, while somewhat sleepy in the second period, ended up being a rollicking good time between two teams that both deserve their high ranking. "No. 2 and No. 3?" said Jean-Paul LaFontaine, the Mavericks' goal scorer. "Yeah, it's one of those games where it's like, 'Bring it. Everything we've got.' ... Obviously, we should have won the game, with 44 shots on net. But our team played well. Every line was rolling along."
3. Getting healthy:
Although both practiced this week, Teddy Blueger and C.J. Franklin were held out of Friday's game due to injury. That's a lot of points on the shelf (17 goals, 47 points combined), especially in a game in which the Mavericks needed finishers. Still, the Mavericks are also looking out for the long term. After this weekend, there remains one regular-season weekend, the first round of the league playoffs, possibly a game or two in the Final Five and at least one NCAA tournament game (more, they hope, of course). Dylan Margonari and Brett Knowles were back in the lineup and quite effective, getting four and six shots on goal, respectively. Margonari had a mini-breakaway in overtime and missed just high over Phillips.
Deep thought:
The Mavericks dropped a spot in the
Pairwise Rankings
with the tie (their third non-win in a row) to No. 2 behind North Dakota.
Read my game story
here
.
Around the WCHA:
Bemidji State 2, Ferris State 1 ... Northern Michigan 5, Lake Superior State 0 ... Alaska 4, Alabama Huntsville 2 ... Bowling Green 4, Alaska Anchorage 3