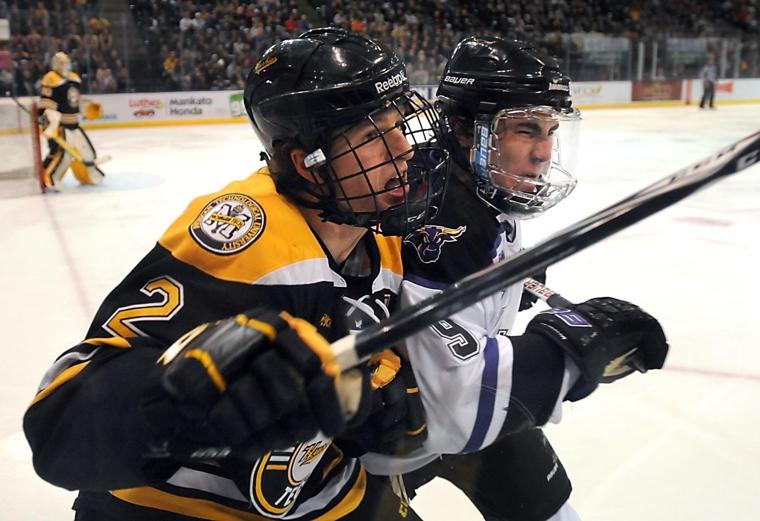 Pat Christman/The Free Press
Freddy's three thoughts of the game ...
1. Big win, big crowd: A record crowd of 5,446 was on hand Saturday night to see the No. 2 Mavericks bounce back from a somewhat disappointing tie (albeit in a good game) for a 4-2 win and a three-point weekend against the No. 3 Huskies. The fans were entertained, and so were the Mavericks by what they saw surrounding them in the Verizon Wireless Center. Chase Grant compared the crowd to games against Minnesota from his freshman season. "It's been a special year," the senior said, "and there's a lot of excitement about this team. It's cool to be part of the turnaround." For the weekend, the Mavericks had a series-record attendance figure of 10,618.
2. Getting to four:
Thanks to crack stat researcher
Dan Myers
, we learned tonight that it was the first time this season that Michigan Tech goaltender Jamie Phillips allowed four goals. Phillips has been, consistently, the best goaltender in the WCHA this season (.934 sv%), proving that with his 43-save performance on Friday. But the Mavericks got their defensemen better involved offensively in the rematch (goals from Jon Jutzi and Carter Foguth) and used a strong second-effort in front on a rebound (Dylan Margonari) to get to three. Bryce Gervais, who was snakebit on some great chances throughout the weekend, finally broke through gave the Mavericks a little cushion with a power-play goal that made it 4-2. "He's a guy, if he get enough chances, he's going to finish," coach Mike Hastings said of Gervais, who now has 21 goals.
3. Senior salute: It was the last regular-season game at home for six seniors: Leitner, Chase Grant, Jean-Paul LaFontaine, Max Gaede, Zach Palmquist and Brett Stern. They were honored after the game, and Hastings gave a nice tribute to them on the ice in front of a large percentage of the crowd that stuck around to celebrate the win. In classy fashion, Hastings gave a shout out to former MSU coach Troy Jutting and assistants Darren Blue and Todd Knott for recruiting the group and getting them to MSU before his arrival. He also brought MSU's first coach, Don Brose, on the ice, saying, "To the guy who built this program ... I want to say thank you." Hastings also thanked the fans for continuing to set record crowds.
Deep thought: The Mavericks can clinch at least a share of the MacNaughton Cup with one point next weekend at Bemidji State.
Read my game story
here
. A few bodies in the press box tonight; here's a recap from
Chris Dilks
. And Jim Rosvold of U.S. College Hockey Online had a
photo gallery
.
Around the WCHA: Bemidji State 1, Ferris State 1 (OT) ... Lake Superior 3, Northern Michigan 0 ... Alaska 4, Alabama Huntsville 3 (OT) ... Bowling Green at Alaska Anchorage (late)