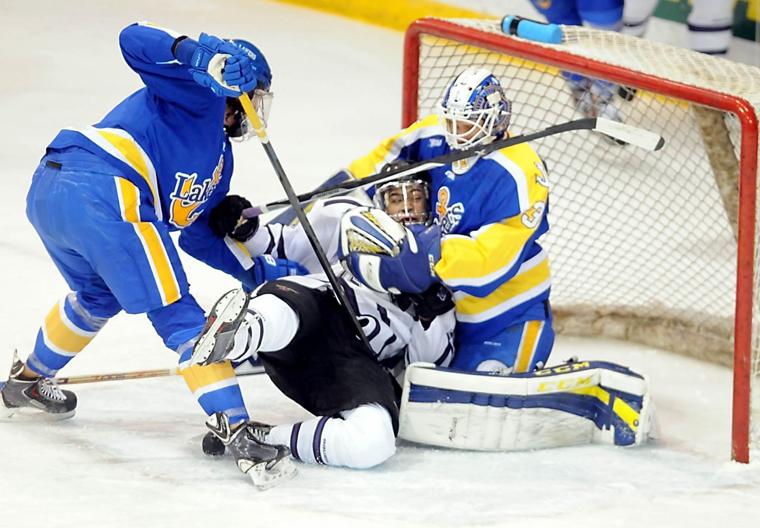 Photo by Pat Christman/The Free Press
Freddy's three thoughts of the game ...
1. Special team: The Mavericks got things done on special teams Friday night, scoring three power-play goals and a short-handed one in the victory over the Lakers. They scored three times in the third period, including two lovely plays: Zach Palmquist sneaking down the weak side to fire in Teddy Blueger's cross-ice pass on the PP and Bryce Gervais' mini-breakaway five-hole goal after a perfect feed out of the corner from Matt Leitner on the PK. Despite MSU's highly ranked (sixth in the nation) and high-percentage (23.5%) power play, Leitner says it can be even better. "It seems like it was more crisp last year," said Leitner, who assisted on three goals. "We have to get better going forward for sure."
2. Surprising scratch:
Perhaps the one-game scratch of Jean-Paul LaFontaine will improve that crispness. Lafontaine sat out for the first time in his career Friday, snapping a 139 games-played streak. Hastings hinted in my
game story
that practices determine who plays each weekend, so he definitely wants more out of the senior forward, who, the coach added, will be in the lineup on Saturday night. LaFontaine has just four goals this season (two on the power play) after scoring 20 last year, including 14 on the PP. As it's been said over and over this season, the Mavericks have loads of offensive talent, always two forwards chomping at the bit to play. Clearly, Hastings has no problem changing things up if he feels like he has to.
3. Getting defensive: I wrote about Casey Nelson for my Friday preview package, and, sure enough, his scoring streak came to an end after eight games (the Puckato Jinx!). But two defensemen did get goals, Palmquist and Blake Thompson, who got an unexpected power-play goal after blasting in a shot from the point late in a power play when Hastings often sends out his non special teams players for the transition back to even-strength hockey. Forwards Max Gaede and Jordan Nelson assisted on the play. Also, Jon Jutzi, playing for the first time since returning to the team, got an assist on MSU's first goal and got plenty of minutes, including his own power-play time.
Around the WCHA: Bowling Green 3, Alaska 0 ... Michigan Tech 3, Northern Michigan 3 (OT) ... Bemidji State 4, Alabama Huntsville 0 ... Ferris State 3, Alaska Anchorage 2