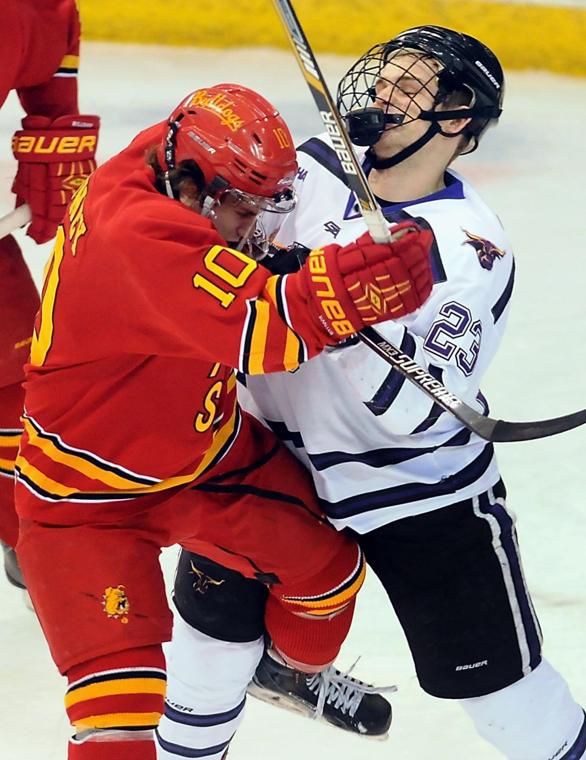 Pat Christman/The Free Press
Freddy's three thoughts of the game:
1. Pick your poison:
Five different players scored goals for the Mavericks: Carter Foguth, Teddy Blueger (pictured), Matt Leitner, Bryce Gervais and Brett Knowles. The top two lines played like top lines with Blueger centering a relentless duo of Chase Grant and Michael Huntebrinker and Leitner playing between Gervais and C.J. Franklin. Franklin had a single assist but could have had a hat trick. The freshman, who has really upped his game in recent weeks, had six shots on goal, including a laser off the mask of goalie C.J. Motte and also clanked a cannon shot off the crossbar. Gervais had five shots on goal and Blueger had four.
2. On the Hunt:
Huntebrinker had a lone assist, but he has to be mentioned as one of the best forwards on the ice. The sophomore winger seems to be getting more and more comfortable the more he plays. After being a scratch for six games in a row before semester break, he's played in six of the last nine games and now looks like he should be an everyday player. Senior Jean-Paul LaFontaine was back in the lineup on Friday, but he didn't go in for Huntebrinker like the last few weeks (instead Zach Stepan and Brad McClure were scratches; Zeb Knutson was also in the lineup). "Hunty did a great job of playing with energy," coach Mike Hastings said. "He made plays. He made a lot of really good decisions."
3. 20 x 3:
The Mavericks became the first team in the country to win 20 games this season and have now hit the milestone three years in a row. There's a lot of season left, of course, but recall this weekend last year when a loss at Northern Michigan dropped them to 14-13-0 and they had to go on an eight-game winning streak (which would turn into 13 straight unbeaten) to get a shot at the MacNaughton Cup (they missed by one point with a tie with Michigan Tech on the final night of the regular season). They can't rest on 20, however, as they lead Tech in the
WCHA standings
by just four points. Curious to see what they do on Saturday night against what likely will be a very hungry Ferris State team.
Deep thought:
It was a nice rebound win for the Mavericks after last week's loss to Bemidji State, especially with their quick start. For more on that, read my Freep gamer
here
.
Around the WCHA:
Michigan Tech 5, Alabama Huntsville 0 ... Northern Michigan 5, Alaska Anchorage 3 ... Bemidji State 5, Bowling Green 2