Freddy's three thoughts of the game ...
First off the wild finish — Casey Nelson laying on the ice in pain after blocking a shot ... Stephon Williams shoving the net off its moorings to get a stoppage ... Williams stoping the ensuing penalty shot — to the game ended up being a big part of my game story, which you can read
here
.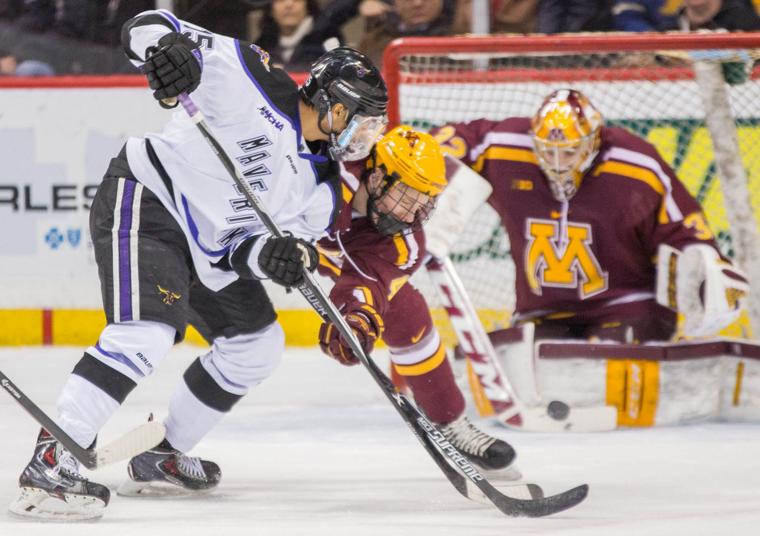 Photo by Trevor Cokley
1. No. 1, with a bullet:
Did the Mavericks need to beat the Gophers to justify their No. 1 ranking? No, but they sure got a lot of people to take notice on Saturday night. "To us, it's another game," Williams said. "(The Gophers) are a great hockey team with great tradition. But our guys, it's like we've been doing all year, we're just trying to get better." Minnesota State, which extended its unbeaten streak to nine games, got a lot of hype throughout the week and handled it well in a building they had been 0 for 7 in. The Xcel Energy Center often can feel like a second home to the Gophers, but MSU never allowed their crowd to get the energy up. By game's end, the "Let's go Mavericks," chant was quite loud among the 14,516 in attendance.
2. Top line comes through:
It was a game in which the Mavericks needed their best line to be special, and it was, with Matt Leitner setting up Bryce Gervais for a pair of beautiful goals and C.J. Franklin converting a breakaway that ended up standing as the game-winning goal. Gervais' first goal was impressive, as he crashed the net with a defender all over him, but the pass from Leitner was even better, a spinning, backhanded centering pass from below the right circle. "We've been playing together for awhile," Gervais said, "and (Leitner) always has some tricks up his sleeve." Jon Jutzi scored the Mavericks' other goal, a tough tap-in of a rebound off the end boards. Gervais assisted on that goal for a three-point game.
3. Big kill:
The Mavericks had a 2-1 lead on Gervais' second goal early in the second period. But an elbowing penalty by Max Gaede led to a tie game. The Gophers tied the game during the delayed penalty, but the rule in college still awards a power play. "It can turn a pebble into an avalanche," MSU coach Mike Hastings said. Minnesota State didn't allow the avalanche, and killed off the penalty. A little more than a minute after Gaede exited the box, Franklin scored his breakaway goal, putting MSU up 3-1. The Gophers, who entered the weekend with the nation's best power play, finished 0 for 4 with the man advantage. MSU was 1 for 3.
Deep thought:
Saturday night's championship game will be an all-conference affair with the Mavericks playing Bemidji State. They swept the Beavers in Mankato Nov. 7-8 and will play them again to close out the regular season in March 6-7 in Bemidji.
Around the WCHA:
Bemidji State 4, Minnesota Duluth 0 ... Penn State 5, Northern Michigan 4 ... Lake Superior State 3, Bowling Green 1 ... Michigan Tech 4, Alaska 3 (OT)