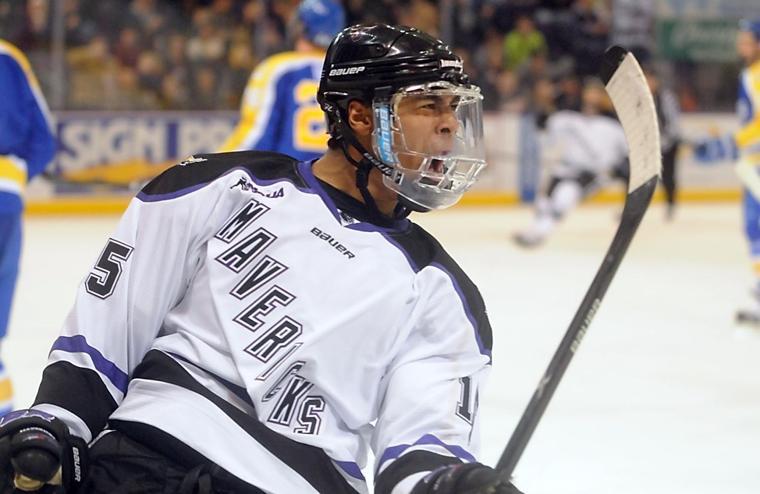 Photo by Pat Christman/The Free Press
Freddy's three thoughts of the game ...
1. Strong sweep:
The Mavericks have now lost just once in their last 13 games, but they went into the weekend without sweeps in their previous two WCHA series, leaving points on the table with that tie at Northern Michigan a week and overtime loss at home to Alaska on Dec. 5. They got past a pesky Lake Superior State team this weekend, one that has a darn-good freshman goalie in Gordon Defiel who seems capable of stealing points. Defiel stopped 30 of 32 shots combined in first periods, leaving MSU to cling to a 1-0 lead each night. Finding ways to extend leads proved to be big.
2. Two-headed goalie:
For the second week in a row both MSU goalies played, and it wasn't due to a shaky performance by the other one. Cole Huggins got his fourth victory on Friday, and Stephon Williams won his 12th game on Saturday. Williams stopped 24 shots and survived a barrage of shots and made some acrobatic saves midway through the second period with his team leading by that tenuous 1-0 score. If the Mavericks' goalies get hot, with everything else they have going on (scoring depth, keeping opponents' shots down) they're going to be a tough team to beat.
3. Welcome back:
Jean-Paul LaFontaine was back in the Mavericks' lineup after being a healthy scratch for the first time in his career on Friday. He had an assist on Dylan Margonari's goal and seemed to have some strong shifts, especially early on. Coach Mike Hastings said he played "a smart game." Meanwhile, Junior defenseman Jon Jutzi played both games after being away from the team in the first half of the season, and he didn't seem to miss a beat. He saw plenty of ice, played on the power play and shot the puck with confidence. He didn't score (he did have an assist on Friday), but he finished the series at +1 with four shots on goal.
Deep thought:
The Mavericks returned to No. 1 in the Pairwise Rankings after Friday's game. Where will they end up in the opinion polls come Monday afternoon? MSU is currently ranked fourth. No. 1 North Dakota split at home with Minnesota Duluth, No. 2 Boston University tied and won at Wisconsin and No. 3 Harvard lost at home to Yale. Stay tuned.
Read my game story, which features a lot about freshman forward C.J. Franklin (pictured above),
here
.
Around the WCHA:
Northern Michigan 5, Michigan Tech 4 (OT) ... Bowling Green 4, Alaska 4 (OT) ... Bemidji State 4, Alabama Huntsville 0