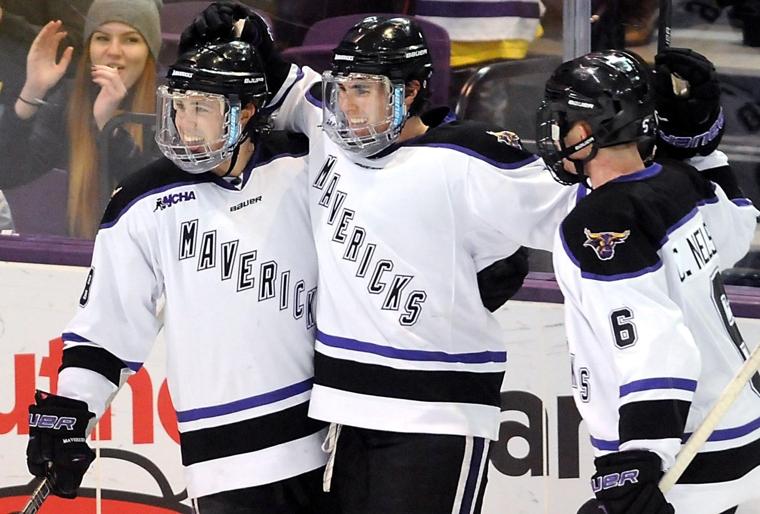 Pat Christman/The Free Press
Freddy's three thoughts of the game:
1. Big sweep, big schedule ahead:
As I write about in my game story (link below), the Mavericks have had Ferris State's number as WCHA rivals, winning seven straight games against the Bulldogs. This weekend, however, the sweep also carried the weight of keeping MSU four points up in the WCHA standings. Michigan Tech also swept this weekend, and the difference between the the two teams' spots goes back to that weekend in November in Houghton when the Mavericks took two from the then-top-ranked Huskies. They'll meet again in Mankato in late February, and in between, their schedules are as follows: MSU—Alaska Anchorage, at Alaska, bye; MTU—Bemidji State, at Alaska Anchorage, bye. There will be some scoreboard watching along the way.
2. Milestone for Leitner:
Matt Leitner scored his 150th career point with two assists in the game. He now has 46 goals and 104 assists. He's 14 points from tying MSU's Division I-era record. For the season, Leitner leads the Mavericks with 29 points, and he and Bryce Gervais have what appears to be a special connection on the ice (Gervais, by the way, had two goals, giving him 18 for the year and 26 points). "The numbers are cool, but it's just special being part of this team, with this coaching staff and this university," Leitner said. "I look at it as a team thing. I'm so proud to be able to do this as a Maverick."
3. To the Max:
Couldn't help but turn my attention to the MSU bench as soon as Max Gaede scored the game's first goal. The senior doesn't score many of them (that was his third this season and ninth of his career), but when he does, his teammates go crazy. There seems to be a lot of love and respect for him. I happened to be below the stands before warmups and it looked like each player and a different pregame ritual with Gaede. Ferris State looked like a harder, more-physical team on Saturday than on Friday, and chances didn't come easy for the Mavericks. Gaede's goal, however, really bumped up the enthusiasm for the home team.
Deep thought:
Great, great crowds this weekend, including 4,613 on Saturday, the second-biggest of the season. Big crowds, however, meant long lines at the ticket booth, ID wristband tables and concessions stands before the game (I toured the arena around national anthem time). With this team winning and being a prime attraction, it might be nice to see those spots better staffed or managed so that more of those fans could be in their seats at the drop of the puck. Many fans missed Friday night's first goal, which came 16 seconds in.
For more on the game, read my Free Press gamer
here
.
Around the WCHA:
Michigan Tech 11, Alabama Huntsville 1 ... Northern Michigan 3, Alaska Anchorage 2 (OT) ... Bowling Green 2, Bemidji State 2 (OT)