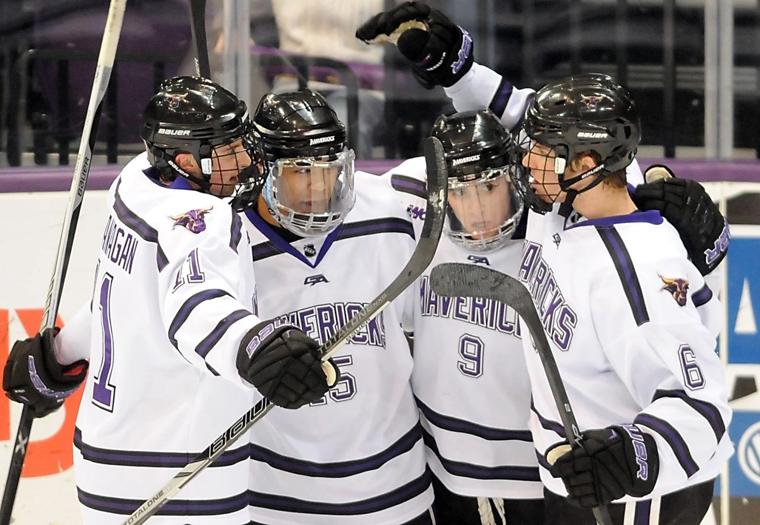 Photo by Pat Christman
Freddy's three thoughts of the game:
1. Huggins is back:
After some early-season struggles, Cole Huggins put together his best game of the season in goal, stopping 15 shots for his seventh career shutout. Now that might not seem like a busy night, but he had to be really good early on (nine shots in the first period) as his teammates were a little slow out of the gate (shots were 9-2 midway through the first) and Princeton had several good scoring chances. He's now in a four-way tie for the Mavericks' career shutout lead with teammate Stephon Williams and former players Mike Zacharias and Eric Pateman. You can read more about Huggins' night in my Free Press
game story
.
2. Stepan up:
Another player who has gotten off to a slower start, at least statistically, is sophomore forward Zach Stepan. He, too, had a great game, assisting on three goals and finishing plus-3. "He was good," coach Mike Hastings said. "I think there's been an attention to detail that's helping him, but that's coming from him. I think he's done something with coach Knott and coach Blue as far as doing some extra work besides what we ask in practice." Stepan assisted on goals by Zach Palmquist, Dylan Margonari and Max Gaede.
3. One for the Gator:
Gaede's goal was his first of the season and just the seventh of his career. The senior forward has now played in 129 games (all in a row) and has carved out a spot on the Mavericks' fourth line or energy line. He seems to get plenty of scoring chances but has trouble finishing. Even though the game was well in hand when he scored MSU's fifth goal with 5:57 remaining in the game, the bench reacted like it was a tiebreaker. Well-liked player who works hard out there. He had two goals last season and one the year before. Gaede is plus-9 for the season. Bryce Gervais and C.J. Franklin had MSU's other goals. Gervais' was his team-leading 11th.
Around the WCHA:
Ferris State 5, Lake Superior State 2 ... Bemidji State 4, Northern Michigan 2 ... Minnesota Duluth 3, Michigan Tech 1 ... Alaska 2, Alabama Huntsville 1 (OT)