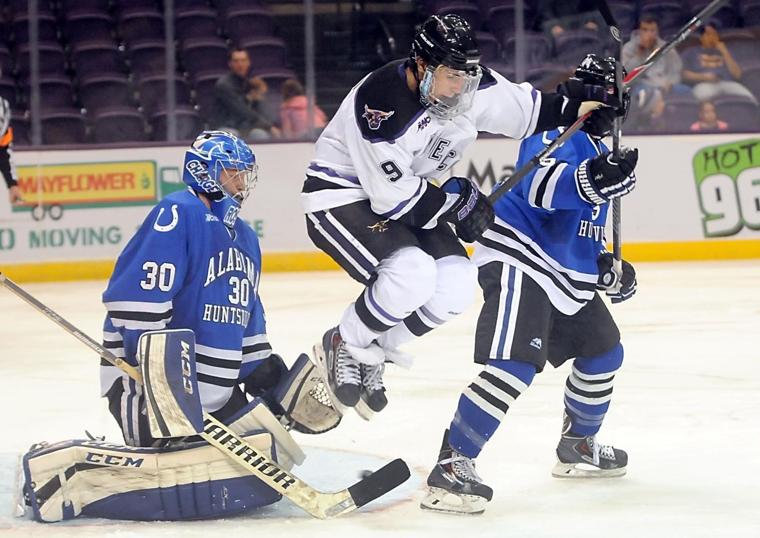 Free Press photo by Pat Christman
Freddy's three thoughts of the game ...
1. Bryce, Bryce, baby:
Bryce Gervais was the star of the show on Saturday, scoring two goals as Minnesota State swept Alabama Huntsville. Gervais scored two goals, the game-winner on a power play at 11:01 of the second period and a short-handed breakaway in the third. On both goals it was just him and the goalie after some hard work and sharp passes from teammates (Michael Huntebrinker and Zach Stepan along the wall on the first and a perfect breakout pass from Matt Leitner on the second). But on a weekend when the Mavericks had trouble beating those good Huntsville goalies, someone had to finish.
2. Don't call them the fourth line:
The grouping of Jordan Nelson, Chase Grant and Max Gaede continues to impress. They may be the fourth line on the chart but they've provided energy — and more — when needed. A night after their team went two periods without a goal, they scored the first, as Grant tipped in Nelson's pass at 13:52 of the first period. Grant has three goals, and Nelson has three assists on the year. Gaede didn't have a point in the series, but it wasn't for a lack of effort. Coach Mike Hastings even put the 6-foot-3, 200-pound senior in front of the net on the power play. "We need some net presence," Hastings said, "and he's earned it."
3. Getting the job done:
The Mavericks couldn't afford a hiccup against Huntsville if they're going to compete for the MacNaughton Cup, and they found way to get through a weekend where they dominated play but were given no cheap goals along the way. Minnesota State is now 2-0-0 in WCHA play and will face a tough test next weekend when they go to Bowling Green. If goalies Carmine Guerrero and Matt Larose keep playing like they did this weekend, Huntsville will score some upsets along the way and probably get more than the five league points it stole last year. The Mavericks do not play at Huntsville this year.
Read my game story
here
.
Around the WCHA:
Michigan Tech, 2, Ferris State 1 ... Northern Michigan 3, Lake Superior State 0 ... Alaska Anchorage 3, Maine 3 (OT) ... Western Michigan 4, Alaska 2 ... Bowling Green 5, Clarkson 4 ... Minnesota 5, Bemidji State 3