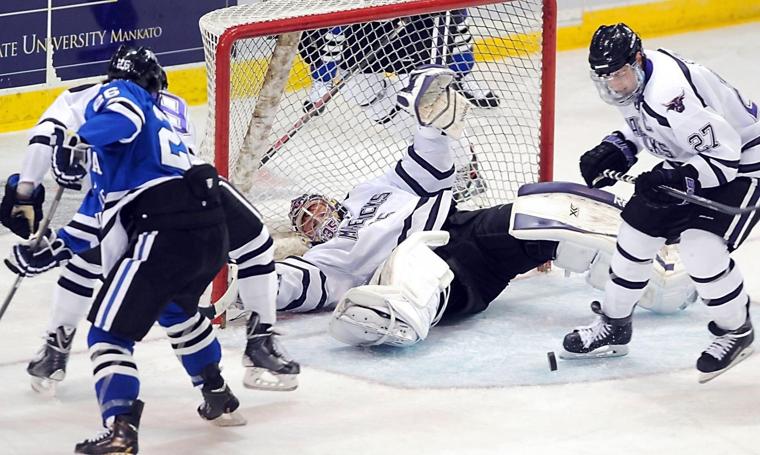 Free Press photo by Pat Christman
Freddy's three thoughts of the game ...
1. Finding a way:
We've seen games like this before at the Verizon Wireless Center, right? A goalie keeps the underdog hanging around. The Mavericks get frustrated, impatient, sloppy. They lose, they tie, they win but feel lousy about it. On Friday, Carmine Guerriero kept winless Alabama Huntsville in the game, stopping 54 shots. A perfectly timed counter attack, a bad change, and odd-man rush ... all could have led to a score and got MSU reeling. That didn't happen, though. The Mavericks controlled the play for the vast majority of the game, and, finally got the goals they needed. Jean-Paul LaFontaine broke the scoreless tie 51 seconds, and Bryce Gervais' power-play goal ended up as the game-winner.
2. Leit show:
Matt Leitner finished the game with two assists and had seven shots on goal. His pass to LaFontaine was another example of his superior rink vision and ability to put the puck where he wants it. Fortunately, LaFontaine was ready for it, and he finished off the play. Mavericks coach Mike Hastings put the two seniors together on the same line for the first time this season, along with freshman Brad McClure (team-high eight shots on goal). Of Leitner, Hastings said, "He played a real complete game. He played 200 feet by 85 feet tonight, both ends — our end, their end, neutral zone. He took some abuse; he put on some miles."
3. Line changes:
Besides the Leitner-LaFontaine line change, the Mavericks had a few other switcheroos. Teddy Blueger centered C.J. Franklin and Gervais, and Michael Huntebrinker returned to the lineup after being a scratch the last three games and centered Zach Stepan and Dylan Margonari. Hastings continued to tinker during the game as well, it appeared, which he's been known to do depending on how guys are playing. As it's been discussed since the beginning of the year, the Mavericks have lots of options up front, and there always will be two unhappy forwards watching from the stands. Zeb Knutson was a scratch on Friday, and Brett Knowles appears to be getting closer 100 percent and to returning to the lineup.
Deep thought:
What was up with the ice tonight? From my vantage point, it looked slow and wet. The second period began with players falling all over the place. That surface certainly doesn't help a team like MSU take advantage of its speed against a team like Huntsville, which would like nothing more than to slow down the Mavericks. Perhaps it's the unseasonably warm weather, but I figured those problems would have gone away with this now 1-year-old ice system.
Read my Free Press game story
here
.
Around the WCHA:
Michigan Tech 1, Ferris State 0 ... Northern Michigan 4, Lake Superior State 2 ... Bowling Green 2, Clarkson 2 (OT) ... Maine 3, Alaska Anchorage 1 ... Alaska 1, Western Michigan 0 ... Minnesota 5, Bemidji State 2