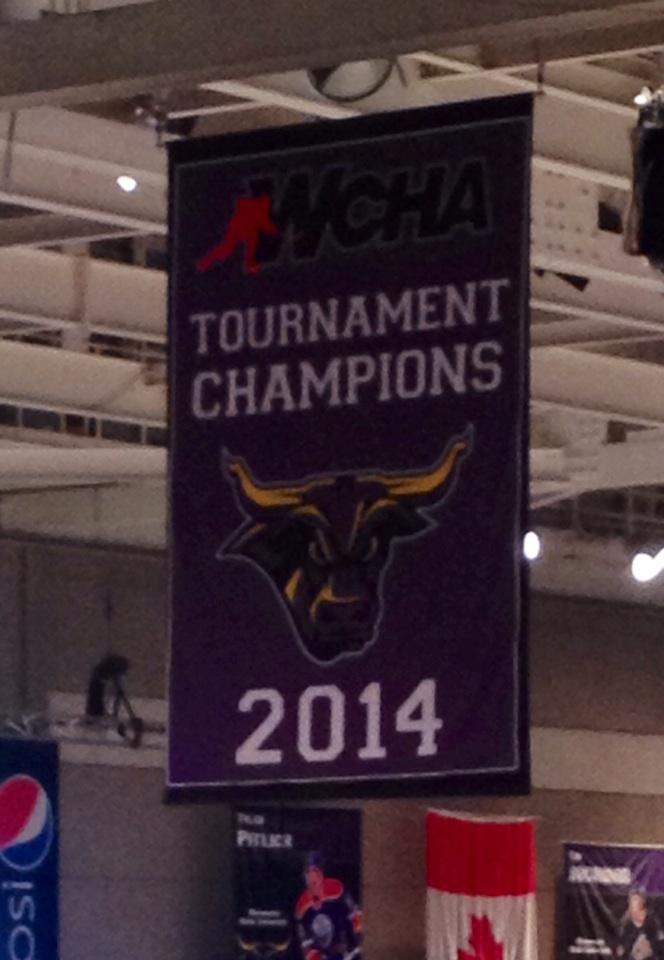 Freddy's three thoughts of the game ...
1. Banner night spoiled:
Minnesota State had its biggest crowd to see a hockey game at the Verizon Wireless Center with 5,375 on hand to see the Mavericks open the season and celebrate (briefly) last season's Final Five championship with a banner unveiling. MSU just couldn't get the big crowd into it, though, as it fell in the home-and-home series split. The Mavericks couldn't build on the 1-0 first-period lead, nor could they take any momentum from Chase Grant's late second-period goal. The third period was all UMD.
2. Not so special:
The Mavericks' special teams have been up and down through four games. On Friday, they were 3 for 10 on the power play. On Saturday, they not only couldn't get it going, but they allowed a killer short-handed goal that broke a 2-2 tie early in the third period. MSU kept putting its hand on the stove and iced the puck twice during that power play. The second one led directly to Dominic Toninato's goal from the high slot off the ensuing faceoff.
3. Star power:
Mavericks coach Mike Hastings said what he said in his team's opener at Nebraska Omaha: "I think their players were their best players tonight. Indeed, forwards Toninato (5 goals so far this season) and Alex Iafallo (4 assists) and defenseman and Minnesota Wild draft pick Carson Soucy (5 points) took control of Saturday's game. The Mavericks' top players didn't do much. No points for Matt Leitner or Bryce Gervais. Jean-Paul LaFontaine had a nice set-up on Dylan Margonari's goal in the first period. Simply put, MSU needs its best players to be good on a consistent basis for it to have a season like last year's or better.
Deep thought:
The Mavericks' loss was their first at home since Nov. 8 of last season against Bowling Green, snapping an unbeaten streak at the Verizon Wireless Center of 15 games
Around the WCHA:
Bowling Green 4, Alabama Huntsville 1 ... Notre Dame 5, Lake Superior State 1 ... St. Lawrence 2, Ferris State 0 ... Northern Michigan 4, Wisconsin 1 ... Alaska Anchorage 4, Air Force 1 ... Alaska 4, Penn State 3