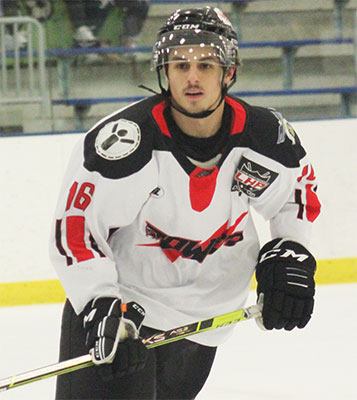 NAHL photo
Wednesday was the first day of the spring signing period, and Minnesota State
inked a pair
of Nelsons — Josh's younger brother Casey Nelson, a defenseman, and unrelated center Jordan Nelson. They will help make up a class of six incoming freshmen for the fall.
Read more about them and coach Mike Hastings' emphasis on defensemen (including midseason transfer Blake Thompson, there will be four new D — five, when you throw medical redshirt Mat Knoll in there — and 10 total) for next year
here
.
Meanwhile, here's a look at all six recruits, some a few comments Hastings made in an interview on Wednesday. ...
• Casey Nelson, D, Johnstown Tomahawks (NAHL): Josh's brother (pictured) is a 6-foot-3, 180-pounder (Josh is 6-0, 180) who had 10 goals and 22 assists this past season and led all NAHL defensemen with 189 shots on goal. "We need some help at the back end, and I think Casey's going to do that," Hastings said. "He can play power play, kill penalties, play even strength. He's got good length at 6-3. I think he's a guy who can give us a little more offensive flare from the blue line.
• Jordan Nelson, F, Fargo Force (USHL): He had 17 goals and 16 assists and was plus-10 in 56 regular-season games. The USHL playoffs began this week, and Fargo is playing Waterloo. Hastings compared Nelson to Eli Zuck, and there will be an opening at that center spot with Zuck graduating. "We hope he can step in and play a role down the middle," Hastings said. "We want that to be a position of strength for us." ... "He can skate, and he's got a little offense to his game. He plays with an edge, and he's able to defend."
• Mike Huntebrinker, F, Waterloo Black Hawks (USHL): Going into the playoffs, he had 18 goals and 24 assists in 46 games. He missed time early in the year with a wrist injury and closed the regular season with 12 points (6-6) in 10 games, including an eight-game win streak. "He's had a good second half," Hastings said. "You look to see players who make an impact at the most important time of the year, and I think he's done that."
• Carter Foguth, D, Muskegon Lumberjacks (USHL): A 6-2, 210-pound defensive defenseman, Foguth had 2 goals and 3 assists and was -5 in 59 games. Hastings called him "a big body who will be hard to play against."
• Sean Flanagan, D, Penticton Vees (BCHL): The 6-1, 170-pound defenseman had 6 goals and 12 assists in 18 games between Penticton and Salmon Arm this regular season and 1 goal and 4 assists in 13 playoff games so far. "A puck distributor," Hastings said, Flanagan had 31 points a year ago. "We're trying to improve our ability to move pucks from our goal line to their goal line and make plays in all three zones."
• Cole Huggins, G, Coquitlam Express (BCHL): He went 22-23-1 with three shutouts this season. He ended up with a .905 save percentage and a 3.41 goals-against average.
"We're going to ask the young guys to come in and contribute immediately," Hastings said. "Our freshmen had an impact on our program last year, and our freshmen have to come in and make an impact next year."
The Mavericks graduate five players: forwards Zuck and Eriah Hayes, defensemen Tyler Elbrecht and Evan Mosey and goaltender Phil Cook.
Here's how the roster will shape up for next season:
Forwards (15):
Zach Lehrke, Johnny McInnis, Chase Grant, Matt Leitner, Jean-Paul LaFontaine, J.P. Burkemper, Max Gaede, Charlie Thauwald, Teddy Blueger, Dylan Margonari, Brett Knowles, Bryce Gervais, Taylor Herndon, Mike Huntebrinker, Jordan Nelson.
Defensemen (10):
Josh Nelson, Zach Palmquist, Brett Stern, Jon Jutzi, Nick Buchanan, Mat Knoll, Blake Thompson, Carter Foguth, Sean Flanagan, Casey Nelson.
Goalies (3):
Stephon Williams, Evan Karambelas, Cole Huggins