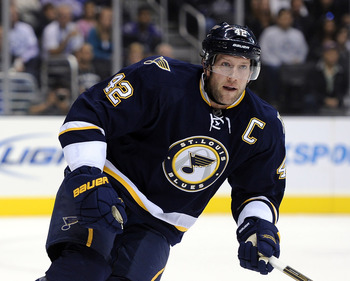 Former Minnesota State star and St. Louis Blues captain David Backes
was named
as one of three finalists for the NHL's Selke Trophy, which goes to the top defensive forward in the league (lately, it's gone to the best two-way forward).
Other finalists include Patrice Bergeron of the Boston Bruins and Pavel Datsyuk of the Detroit Red Wings. Datsyuk is a three-time winner.
Backes, a center, led the Blues in scoring this season with 25 goals and 30 assists. It was his fifth full year in the league. He also averaged a team high 19:59 of ice time per game and was plus-15. He also led St. Louis in hits (226) and had 72 blocked shots and 50 takeaways.
You can see Backes' and Blues coach Ken Hitchcock's reaction to the nomination
here
.
Backes and the Blues defeated the San Jose Sharks 4 games to 1 in the first round of the Stanley Cup playoffs. They will play the Los Angeles Kings in the second round.